Daily Archives:
December 6, 2019
Well, I had planned to have big, full blog with all the photos I took with my Panasonic FZ80, but I found that I couldn't get the photos off the camera.
I had planned to just plug the SD card into my laptop and transfer them over. But I brought my new "Hungarian" laptop with me, the one I bought in Budapest last May, when I left my other one at home. But since I also left my camera at home, I never got to try plugging an SD card into it.
So I never discovered that this Hungarian ASUS model does not have an SD port.
Bummer!
So I would just plug a cable directly from the camera to the laptop, right? But then I discovered that, though my Panasonic uses a standard USB to micro USB to externally charge the battery, it uses a micro HDMI to HDMI cable to transfer video from the camera.
Which I didn't have.
Bummer, too!
But the 3rd times the charm, right?
My camera has a WiFi connection that uses an Android app to connect your phone to the camera, allowing you to transfer photos, and even remotely control the camera.
But after I downloaded the app, connected my laptop to the camera WiFi signal, it would only transfer one or two photos and then lock up.
So the 4th times the charm, right?
Nope. Because I didn't have any more ideas.
So all you get tonight is a couple of photos I took with my phone.
When you come to NYC you just have to try a street vendor hot dog.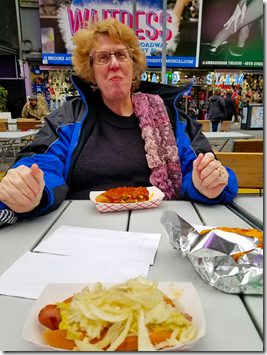 Jan got a Chili Cheese Dog with Jalapenos, while I got a standard New York Style Dog. When in Rome, right?
And of course, a big cheesy warm pretzel.
All really good.
And I did get one photo of the beautiful Rockefeller Center Christmas Tree.
Really magnificent!
---
Thought for the Day:
"The average dog is a nicer person than the average person."– Andy Rooney
sdgf