Daily Archives:
December 12, 2019
Although we had a great time in New York, it's nice to be back in Santa Fe in our own home and our own bed.
I did order our new Samsung TV from Amazon this morning, and it should be here on Monday.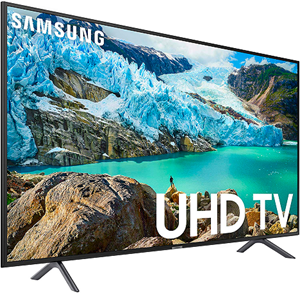 I did double-check my measurements to be sure that it would fit first, but it looks like we're good to go.
Jan says she's good to go in the meantime since I bought our 22" TV from the bedroom and set it up on the end of the sofa.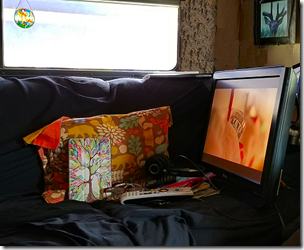 One thing I did find interesting when I was looking at different  models on Amazon is that I could buy a 'Renewed' model, which I assume means that it's been returned and checked out, i.e. Refurbished.
Strangely though, the 'Renewed' one is only $1 cheaper than a brand new one. Why would anyone one buy the used one?
Certainly not me.
I also bought the 4 year warranty for $45, which includes 'damages', so Karma can do her worse now, I guess.
Speaking of Karma, she apparently doesn't want us leaving her again. She spent pretty much all night actually sleeping on top of me, something she's never done before. She sometimes will sleep beside me, but I guess she's taking no chances now.
Even more so, she spent most of today sleeping on top of one of our suitcases just to be sure.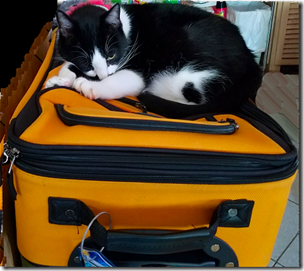 Heading out about 1pm we first had lunch at Snooze before heading over to WalMart to stock up the fridge now that we're back.
Then it was over to the Sam's Club next door to tank up the truck. Gas was $1.97, two cents more than the last time we filled up two weeks ago. But still not bad.
Though I posted a blog after we got to NYC Thursday night, I thought I'd repost that blog and then flesh it out with more text and photos.
---
The day couldn't not have gone more perfect.

We were up at 3am, our car service guy showed up about 4:15, and we were on our way up to Hobby Airport by about 4:30. Right on schedule. And I didn't forget my camera or laptop this time.

We got dropped off at the Southwest entrance a little after 5am, and we tagged and checked in our 3th suitcases a few minutes later.
On our way to our gate (why is it that it always seems like our gate is #36, out of 1 to 36.), we were offered a chance to sign up for the CLEAR program, in which, once you're registered, means you bypass the normal checki-in line and pretty much just get waved through. And even better, it was free.
The only real problme was trying to get a good scan of my fingerprints. Due to a lot of scar tissue
due to some burns, I don't really have much in the way of valid fingerprints. The last time this caused me a problem was when I was fingerprinted for our gate guarding security licenses.
And before that, my numerous security clearances for the DOD and NASA. You would think by now that I would be in ths system enough that they would know me. I mean surely my scar tissue is pretty distinct.
But luckily for me there was the option of a Biometric Iris Scan, which did work.
One thing nice about this flight is that, unlike our recent European flights, we could check in 2 bags each, not just one. So we had no carrying-on stuff, other than Jan's large purse and my laptop bag.

The only problem was that our online check-in got screwed up and we ended up boarding in the last group. So by that time there were only center seats left so we couldn't sit together. But it was a nice smooth flight and we actually got in at 10:50am (9:50CT), 5 minutes early.

Probably because we were doing almost 600 mph.

We had to wait about 15 minutes for our luggage, and while we were doing that, an enterprising Skycap came by and asked us where we were going. I told him that we were going to get a taxi or Uber to a hotel near Times Square.

Now there were signs all over the baggage area that due to the ongoing construction of a new terminal at LaGuardia, you had to take a shuttle bus to a place about 15 minutes away where you could then get a taxi or an Uber. When I mentioned this to him, he said this was not necessary and he could take care of this for us.

Kind of wary of the City Slicker swindling the Country Rubes, I asked how much this would cost and he said he just worked for tips. And since he had his own luggage cart, I didn't have to rent one for $6, so I told him OK.

So he grabbed our 3 suitcases when they came around the carousel and off we went. Jan, of course, was somewhat suspicious.(make that VERY suspicious) but gamely followed along, knowing at any minute we were going to be ravaged and pillaged.

After about a block we turned a corner and there was a long line of people waiting for one of shuttle buses. Positioned around were electronic signs saying the wait for a taxi or Uber at the other end of the shuttle ride was 55 minutes. And based on the length of the line on this end, it was going to be at least 30 minutes here.

Resigning ourselves to the wait, we started to get in the long line, but he shook his head and motioned us to follow him. And since he was leaving with our luggage, we decided to follow.

He led us around the outside wall of the covered shuttle waiting area, past several policemen, who nodded to him (made us feel better), and then across the street. There, behind a police barricade, was a line of Yellow Cabs being waved forward, one by one, by another police officer.

Our SkyCap put our luggage in the truck, I tipped him, and we were on our way, less than 10 minutes after we got our luggage.

And less than an hour later he was letting us off at the Hotel Riu Plaza Times Square, about a block and a half off Times Square. And even better, our Uber ride was listed on the app as being about $80, but our taxi ride was only about $60.

Very, very nice.

Checking in, we were told our room was ready, and we ended up with a very nice room on the 25th floor, with an open balcony that we can walk out on, with a great view.

Even better, though we knew our room came with a full breakfast buffet, we were happily surprised that it also came with their full dinner buffet. Which is advertised as being $35 per person if you had to pay for it.

Neat!

Then it was, of course, time for a nap.

About 3pm we made the 2 block walk over to Times Square to check things out, and then headed over to Junior's Restaurant, just about a half block off Time Square,

We discovered Junior's when we were here in 2009, and it quickly became a real favorite, as we ate here several times. So it was a given that it would be the first place we came to when we got back in NYC.

Jan got their version of the her fav Wedge Salad,

while I got their 10 oz. Steakburger,

which we then split with each other.

This was to leave us room to Jan's Chocolate Mousse Cheesecake

and my Carrot Cake Cheesecake.

And of course you can't have Junior's World-Famous Cheesecake without a nice hot Cappuccino to go along with it. Especially when it's 39 degrees outside.

By the time we finished it was getting dark here (about 4:30 here in the ET) so we walked back out to Times Square to check out the lights.

One big change we noticed since we were here in 2009 was that Broadway is now partially open to traffic.

But when we were here back then, Broadway was completely closed to traffic for many blocks in each direction, as you can see here.

One thing new was that every surface is a TV screen, sides of buildings, doorways, and even bus stop enclosures.

It was a little warmer then, too. It was about 36 degrees when we sat out for a while this evening.

And of course we had to take the obligatory Times Square selfie.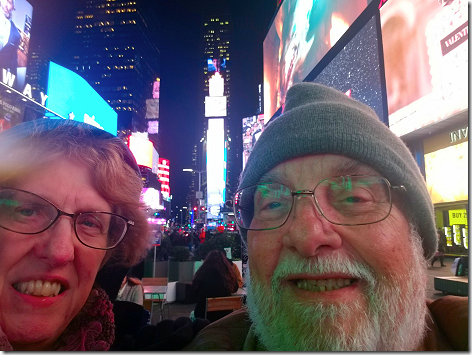 Getting back to the hotel after about ten minute walk, we checked out the view from the 25th floor at the end of the hallway.

That's our balcony and room behind the railing on the right.

Tomorrow night I'll update our Friday blog from 12/06/19.
---
Thought For The Day:
What has 32 actors, 16 scripts, 3 directors, and 1 channel?
624 Hallmark Christmas Movies.
asdfads