Daily Archives:
December 28, 2019
Well, I fixed my PC to new TV problem this morning, and we used to stream an episode of Stumptown this evening.
And as happens quite often, to paraphrase Sherlock Holmes, When you eliminate all the usual suspects, it turns out to be something weird.
First thing I did was get out my Hungarian ASUS laptop, and after booting it up, I plugged the HDMI cable into it and the other end into my desktop computer monitor. Then to get the monitor to switch over, I unplugged the DVI cable from the computer.
And now I had laptop video on my PC monitor. So then I unplugged the cable from my monitor and plugged it into the TV.
And now I had laptop video on the TV, so now I knew that part worked. And when I then plugged the laptop cable end into my PC, suddenly I now had PC video on the TV.
WTH? So why did it suddenly start working?
While I was contemplating this mystery, and noticing that I had not plugged the DVI cable back into the monitor, I plugged it back in and the video disappeared on the TV.
WTH?
But then it made sense. Going to my computer desktop, I right-clicked and selected Screen Resolution. And there was the problem.
For some reason my Display Settings had changed. Instead to being set to Multiple Monitors and Duplicate These Displays, it was set to Show Desktop Only On 1.
And correcting the settings fixed the problem.
But what I don't understand, and so didn't think to check, was how the settings got changed in the first place. They were correct just a couple of weeks ago with the old TV, and I've had no reason to fool with them since.
So who knows, but it's working now.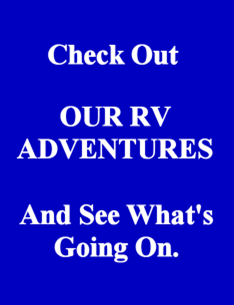 As far as streaming from the PC, we've been trying to catch up on some of episodes of our favorite shows we missed recording while our rig was in the shop in Luling. So first we caught up on Evil this afternoon, since we didn't need to stream any episodes to catch up with that one.
Then this evening it was on to Stumptown to stream the one episode we needed, and then it was on to the the last two episodes we had recorded.
Then in the next few days it's on to Prodigal Son, where we've got one episode to stream, Emergence, two to stream, and Bull, with two episodes, also. Hopefully we'll be all caught up by the time the new episodes start up in a couple of weeks.
I streamed these from the computer since I haven't had a chance to peruse the TV's 177 page manual to see if there's a way to stream directly from the Internet rather than through the Hulu, Netflix, AppleTV, Prime, or other services shown on the SmartHub selections.
---
Thought For The Day:
"Certainly one of the chief guarantees of freedom under any government, no matter how popular and respected, is the right of the citizens to keep and bear arms. […] the right of the citizens to bear arms is just one guarantee against arbitrary government and one more safeguard against a tyranny which now appears remote in America, but which historically has proved to be always possible." – Hubert H Humphrey
ghdg