When is 5G not 5G?
Jan and I left the rig this morning, just in time for the bottom to drop out in the rain department. It had been sprinkling for a while before we left, but by the time we got to FM517 the gutters were already filling up.
Our first stop was at Texas Huddle Grille once again, for Jan's Mushroom Cheddar (not Swiss) Bacon Burger, and my, of course, PB&J Ghost Pepper Cheese Bacon Burger, both with the Wedge Fries.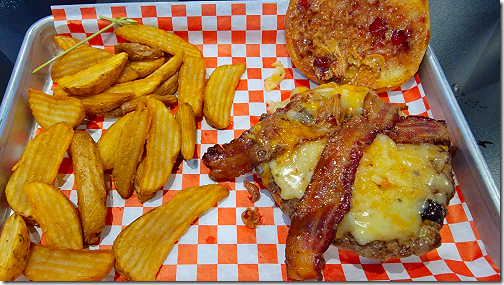 As has happened before, by the time I got my PB&J Burger photo, Jan had already cut hers in half and taken a bite. So no photo of her burger.
I'll have to photo hers first next time.
We were talking to Tyler, our regular waiter, about their various Wing Sauces. They have 17 ranging from Golden Mustard with no heat, all the way up to the hottest, Texas Heat. But the one that attracted my attention was the second hottest Flaming Raspberry.
I mentioned to Tyler I like a very hot, but sweet sauce, like Buffalo Wild Wings' Mango Habanero. Turns out that Tyler used to work at BWW and said that he thought that Flaming Raspberry was hotter than Mango Habanero. And then he brought me a small cup of it to try.
He was wrong.
Flaming Raspberry was not nearly as hot as Mango Habanero. In fact Jan tasted it and agreed with me. So I don't have a lot of faith in the hotness of their Texas Heat. But we'll see next time.
Then it was on over to WalMart to pick one of my last prescriptions that I haven't bothered to move over to Kroger's since it only has 1 remaining refill on it. And although Kroger's is cheaper, it's only a couple of bucks cheaper. So not worth the hassle.
Then it was back over to Kroger's to pick up a refill there. For $8.40
For a test I checked both GoodRx and their competitor, SingleCare.
Looking at GoodRx, I found the following:
WalMart $26.23
CVS $37.42
Walgreens $36.48
And looking at SingleCare, I found this:
WalMart $49.95
CVS $57.93
Walgreens $61.29
And as I said, Kroger's was $8.40.
Besides the big difference with Kroger's, which is why I joined their membership plan, note the big dollar difference between GoodRx and SingleCare, which I had noticed before. I compared the two back when SingleCare started being advertised and was surprised at how much more expensive they were.
But I guess since they're paying Martin Sheen and sometimes Charlie Sheen, to be their spokesmen, they've got to make up the difference somehow.
When we were up in Webster today, I noticed I once again had 5G service on my phone, but when I ran SpeedTest.net, I found it really slow, less than 5 Mbps. Which is slower than the usual 10Mbps I get on 4G.
So as a test I tried to turn off 5G and see what I got, but found no way to do that on my phone. And a little Googling told me why. Verizon made Samsung take that feature out of the S21 series of phones. And it also confirmed that because of the way that Verizon is introducing 5G into some areas, running the 5G on top of 4G, it was often slower because of the extra overhead.
But it turns out that there was a app that I could download called 'Samsung Band Selection' that would allow me to turn off 5G. And when I did, my Mbps went up to almost 10 again. And when I turned 5G back on, everything slowed back down.
But, as they say, "They're working on it."
---
Thought For The Day:
Who knew that windmills can produce both Power AND Light?