OK. All Right, Already. I Will . . .
I guess I just swapped out the wrong one.
Hwy 6 Automotive called about 12:15 this afternoon saying that our baby was ready to come home.
Joe said that the problem was with the #4 coil pack/igniter, so not a bad gas problem after all. And that's why when I swapped the the #3 and #5 igniters on the other side, it made no difference. The #5 misfire that showed up on the error codes was just a ghost.
So replacing the #4 igniter fixed the problem. And $100 later, Jan was driving our Jeep back home.
As I said a couple of days ago, I had swapped the 3 and 5 igniters because they were the easiest to get to. I didn't do the other side because I would have had to remove a bunch of the air cleaner hardware.
Joe also said that he couldn't see any reason that bad gas was behind this.So apparently sometimes a coincidence is just a coincidence.
A little before 1pm Jan and I drove over the Black Bear Diner to have lunch. One of our favorite places, but for some reason it fell off our radar and we haven't been there for a while. And it was just as good as always.
Jan got the Crispy Chicken Salad, but I didn't get a photo. I got my usual Bacon Cheeseburger Salad.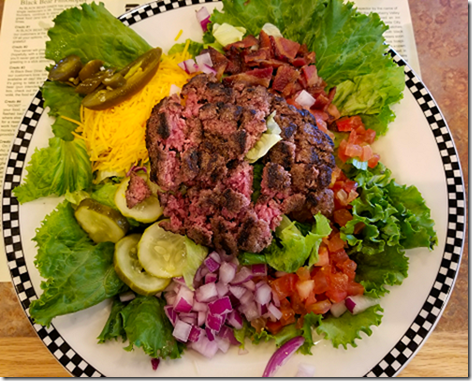 After a quick stop at HEB, we stopped off to pick up the Jeep. Coming home, Jan said it drove just like old times.
Our baby is back.
OK. All right, already. I will.
I've gotten a number of emails recently from readers wondering why I'm not longer posting anything about the CoVid/WuFlu/KungFlu/China virus. Take your pick.
Honestly, I just got bored with it, or burned out, maybe. But I guess I'll go back to posting just a couple of things every now and then that catch my eye.
Like these.
There Were More COVID-19 Vaccine Deaths Last Week in US than COVID-19 Deaths
According to the CDC's own VAERS (Vaccine Adverse Event Reporting System) website, there have now been over 9100 deaths in the US attributed to the COVID vaccines. Including a jump of over 2000 just last week.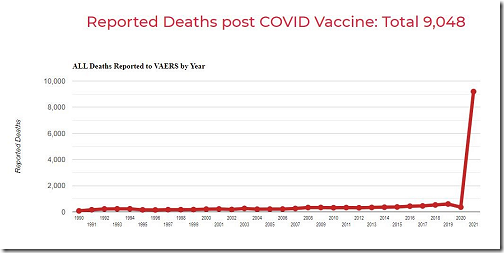 Note that previous to 2020 these are deaths from ALL vaccines, since the COVID vaccines did not come available until the fall of 2020.
And these are just a couple of hundreds of cases of people who got the vaccination and still became very ill after contracting COVID.
Our Family Got Vaccinated. Then We all Got COVID.
Vaccinated Calif. man gets breakthrough COVID case after trip to Las Vegas, spreads to family
Discuss among yourselves.

---