Daily Archives:
April 2, 2015
There have been some people reporting problems accessing Nick's new blog area, even though the web address is still the same. Instead they see an old date.
In most cases, there's an easy fix. If you're using Internet Explorer, and you're on the old page, just hold down the SHIFT key and click the Refresh Icon. Or, under the Tools menu, select Internet Options and then delete your browsing history.
If you're using Google Chrome, go to Settings/History and click the Clear Browsing Data button.
Well, after last week's +1 rig count, it just goes to show that one good week does not an increasing trend make. This week's count dropped by 48 rigs.
* * * * *
When I got up this morning I opened our new Dream Serenity 2" Memory Foam Gel Filled Mattress Topper and unrolled on our bed. Out of the box it was about 3/4" thick, but within a couple of hours, it had expanded to its 2" height and was ready to install.
It took us about 45 minutes to get the bed stripped down and the old mattress topper removed and dragged out to the living room.
Around 2 I decided to make the sacrifice and protect Jan from a rogue topper, so I took a nap on our newly topped bed. Turned out to have a different feel, but was very comfortable. You can definitely feel the Memory Foam, but if it's going to be any cooler in hot weather, I don't know. We'll see tonight, I guess.
* * * * *
About 3:45pm we drove over to Nick and Terry to pick them up for our antepenultimate meal together for this time together. We'd all decided we wanted to go back to Joe's Farm Grill over in Gilbert.
Jan had the Pesto Grilled Chicken Sandwich with the Asian Slaw, while Terry had a Grilled Portobello Mushroom Sandwich with the Beet Slaw.
Nick and I both did a repeat from last time, with him going again with the Fried Shrimp and I again did the Mix N Match with a Carolina Hot Dog topped with BBQ Pulled Pork and Coleslaw, and a Sonoran Hot Dog wrapped in Bacon and topped with Beans, Sour Cream, Cheese, and Jalapenos. Both delicious and sating my hot dog craving for a while.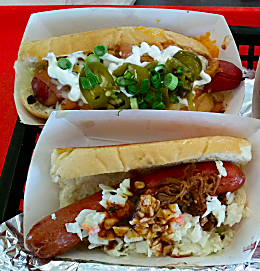 Jan and I also shared a Grilled Wedge Salad and an another order of their Fried Green Beans. The Gilled Wedge Salad was another of Joe's dishes that was featured on Diner's, Drive-ins, and Dives, and was really good.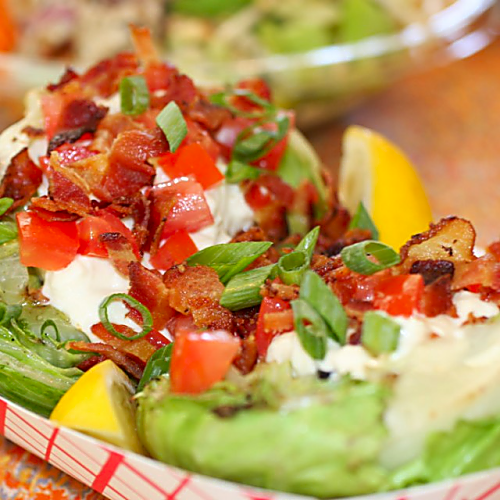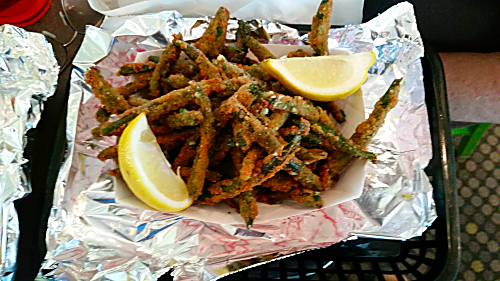 After dinner we walked next door to check our their produce stand and coffee shop, before heading home for the night
Tomorrow night will be our last time with Nick and Terry, since we're leaving for Verde Valley Sunday morning, and they're doing an Easter get-together with Terry's family on Saturday.
_________________________________________________________________
Thought for the Day:
"I've been trying for some time to develop a lifestyle that doesn't require my presence." – Gary Trudeau, author of Doonesbury
adfadsfadsf