Daily Archives:
April 9, 2015
We had planned to drive up to Jerome today but Jan was a little under the weather so we put off the trip until maybe tomorrow. So we'll see.
Later in the afternoon I was back outside working on my magnetic shades. Today I wanted to glue the corner pouches on the shades that I will use to lift the shades into place.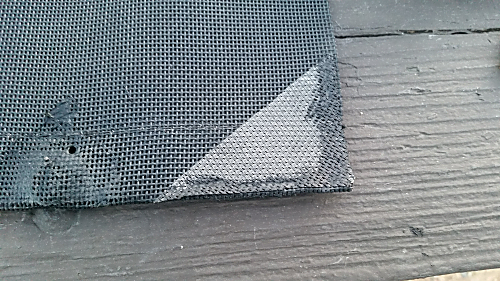 Then, about 4pm Jan and I headed over to our favorite local Mexican place, La Fonda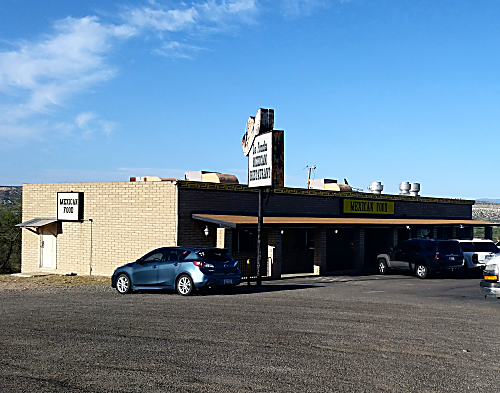 If you check out the reviews on Yelp, they're kind of mixed. People either love it or hate it. But we've always enjoyed it, and today was no exception.
I had the #3 Special Dinner,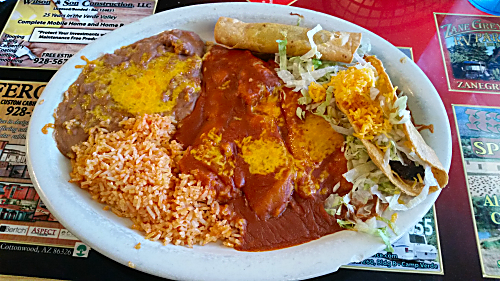 while Jan had the Chile Relleno Special Dinner.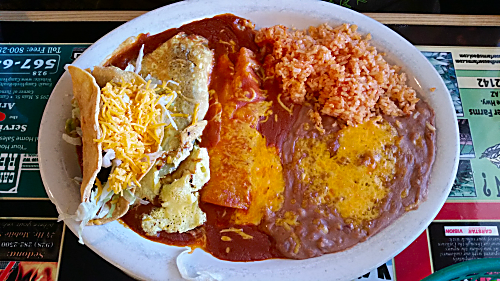 Both really good.
Even better, for a Mexican Restaurant, the chips and salsa were both excellent too.
While we were at La Fonda, I noticed that I had received a phone call earlier in the afternoon that I had missed. I didn't recognize the number except it was an 907 Alaskan area code. Googling the number, I found that the caller was the Material Girl Fabric Shop in Fairbanks AK.
When I told Jan this, she immediately said, "I bought quilting material from them". That was in 2008 when we spent five months up there from April through September. So curious, I called them back. The lady laughed and said she guessed it was a wrong number. She said she had 4 Jan White's in her contacts, and just called the first one oh her list. I guess it's always something.
Before coming home, we drove down around the Camp Verde area to check things out around there, and confirm that Crusty's Pizza, an Italian restaurant we enjoyed in the past, is still open.
Thought I'd post this photo on how tight our site is, complete with the aforementioned sharp, pointy trees.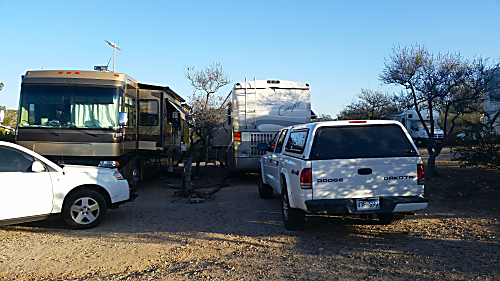 Later this evening, I was going through the blog posts from our last visit here in April 2011 and discovered, that in one of those weird coincidences, April 9th, 2011, 4 years ago today, Jan and I ate dinner at La Fonda with Nick and Terry. And even weirder, I ordered the exact same Special Dinner.
When we were here 4 years ago, it was even colder than it now, with temps in the 20's rather than the 33 degrees we had last night, and there was snow on the cars in the area.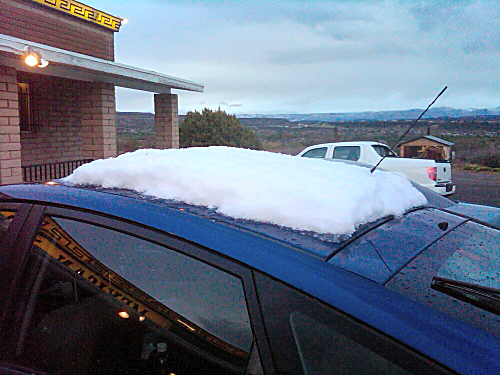 Glad it's a little warmer now.
_____________________________________________________________
Thought for the Day:
"The problem with elections is that you never know ahead of time who's going to win." – Stalin
fadsfads