Daily Archives:
April 15, 2015
Since we were starting out early on our African safari today, we decided to have breakfast here at the park's Homestyle Grill before heading out. Except for the funky biscuits, the food here is delicious, very well done.
---
---
We headed out from the park about 9:15, but on our way we had to make a detour and render unto Caesar by making a stop at the PO in Camp Verde to put the tax stuff in the mail. Ugh!
Then it was on to Out of Africa, getting there about 10am, leaving us plenty of time to catch a tram to the other side of the park for our 11am Unimog Adventure.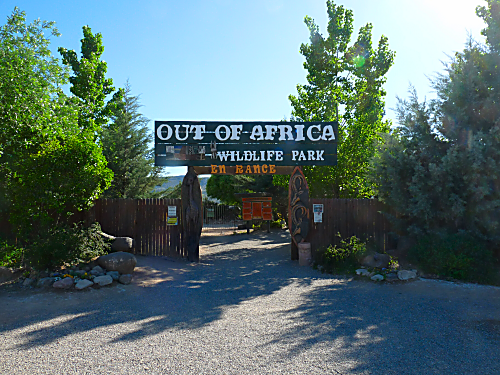 You'd think they could at least buy a vowel, or a consonant, at least.
The Unimog Tour is an upgrade from the standard Safari tour using a MB vehicle like this one, but ours had a longer passenger area.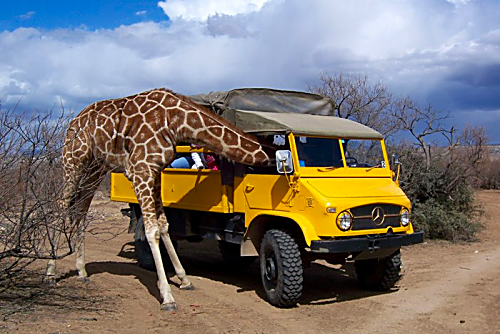 Erin, our guide, took us through the park, stopping off to feed many of the predators, usually just tidbits of meat using long tongs, of course.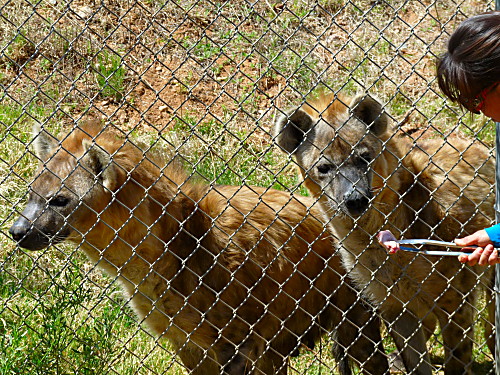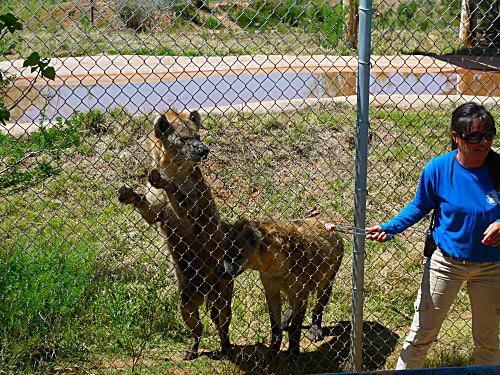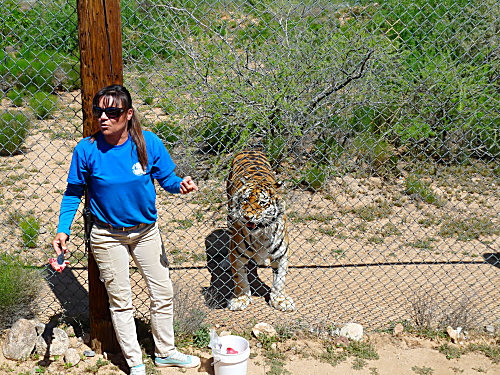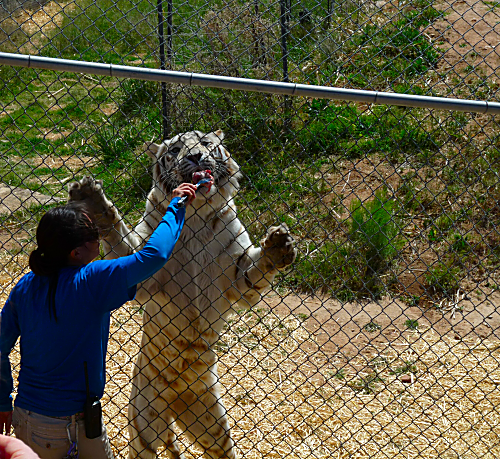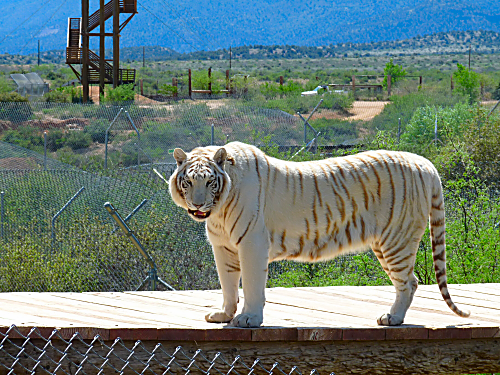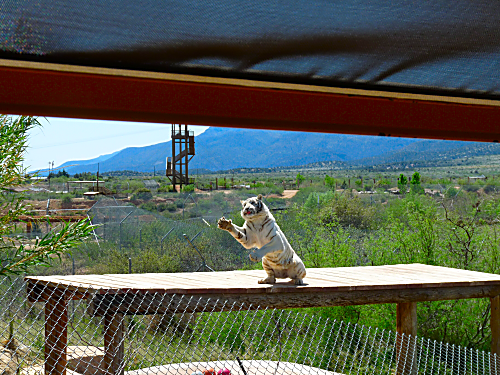 But rather than meat, the Ringed Tail Lemurs got grapes.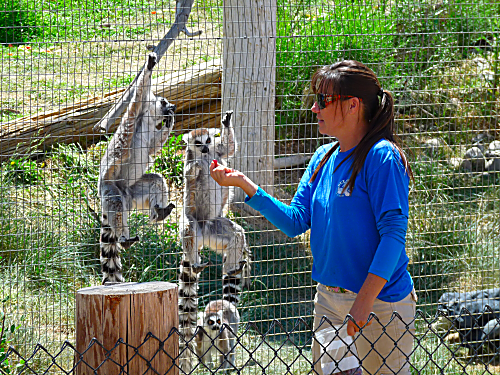 Next driving around to the other side, we passed Jericho, the 5000 pound Southern White rhino. The last time we were here in 2011 they had a 41 year Southern White rhino named Boom-Boom, but he died a couple of years ago.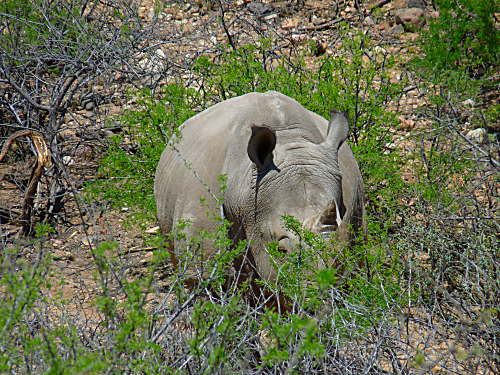 Finally we drove through double gates out into the Serengeti area that mimics the plains of Africa. Many of the animals here are out in the open and can, and do walk right up to the bus.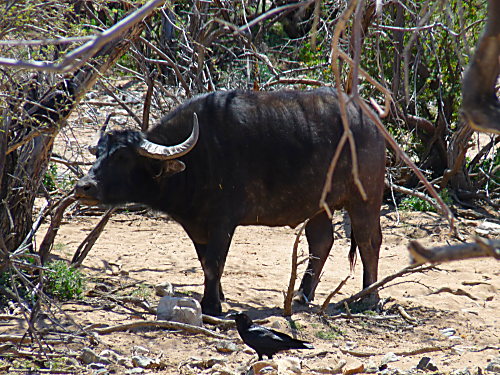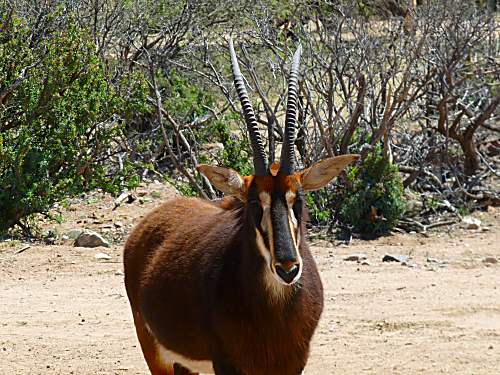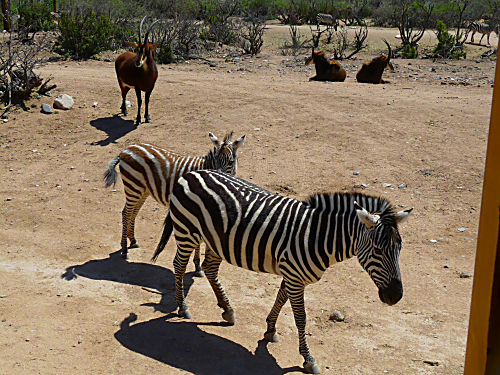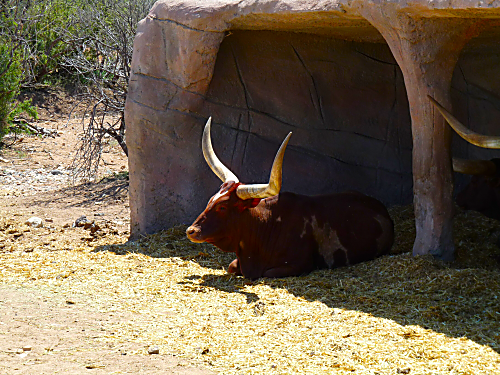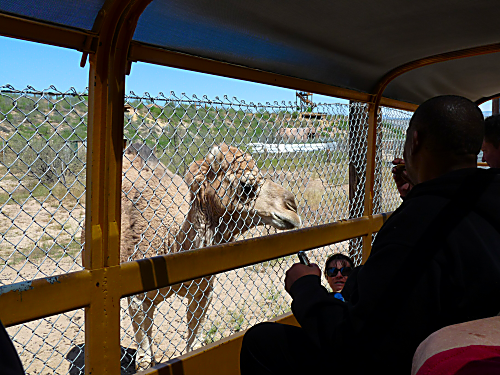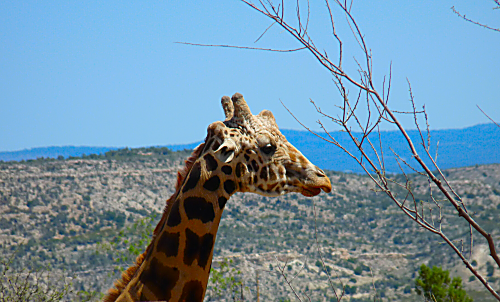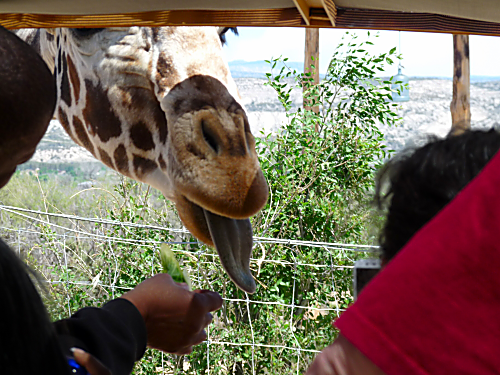 Finishing up our tour, we got a cold drink, and just sat and people-watched for a while before walking over to the Tiger Splash area a little early to get a good seat.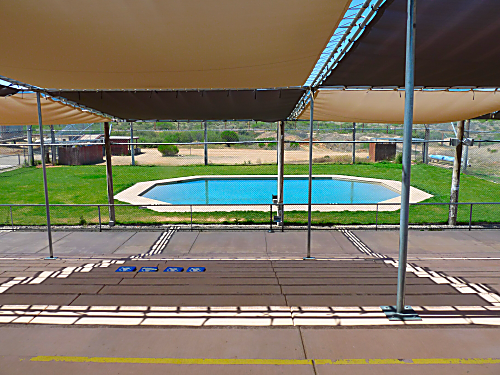 The Tiger Splash was our favorite attraction last time, and this visit was no different. It's really amazing to see the handlers inside the enclosure, swimming, playing, and wrestling with these two big cats.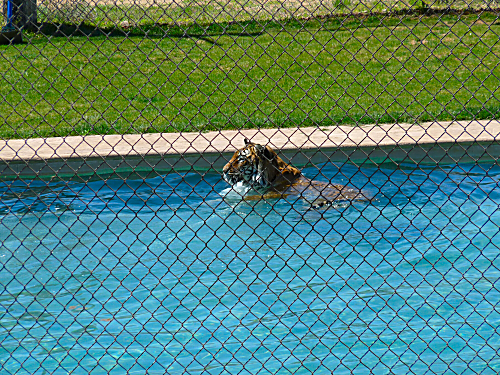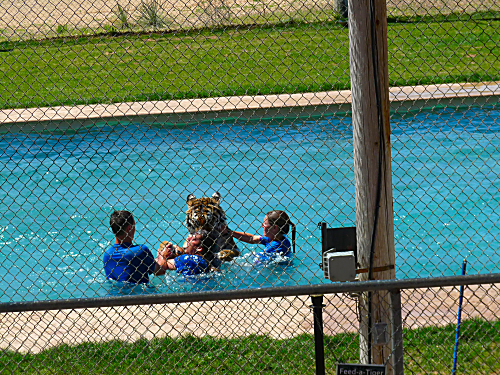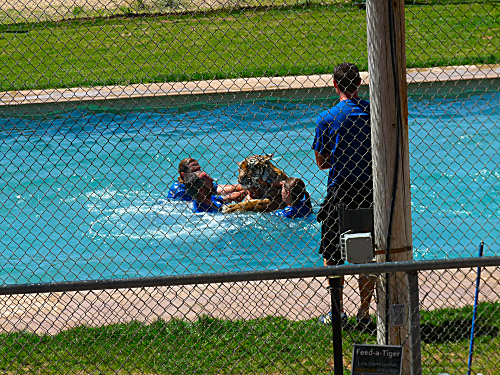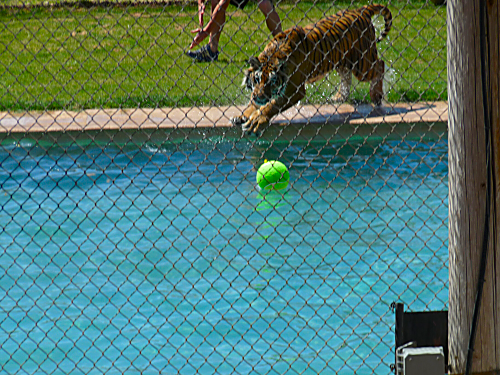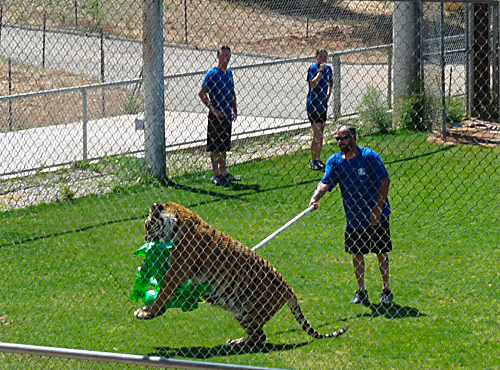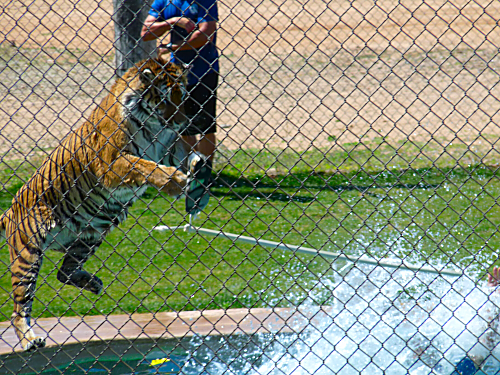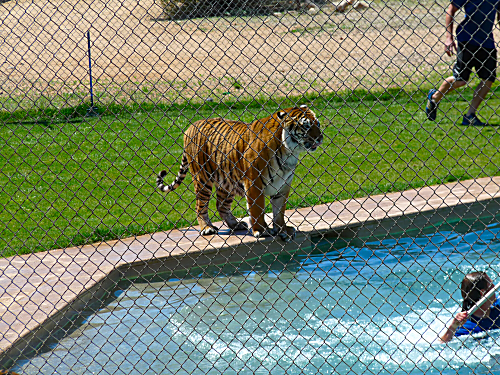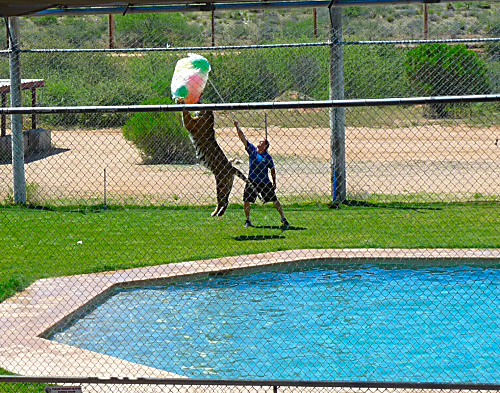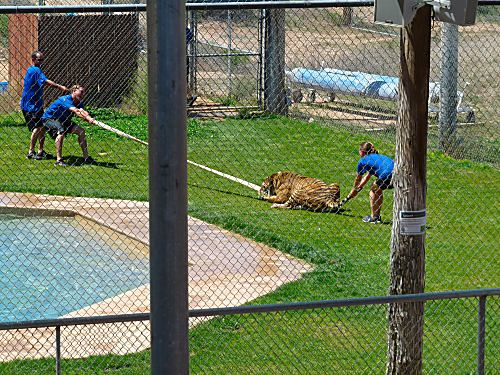 You can even play 'Tiger Tug of War".
To paraphrase Star Wars, "Let the Tiger win."
One thing different about the Tiger Splash this time, is that afterwards, for $5, you can feed a tiger yourself.
At least with a long stick, and a fence between you and the tiger. Probably a good thing.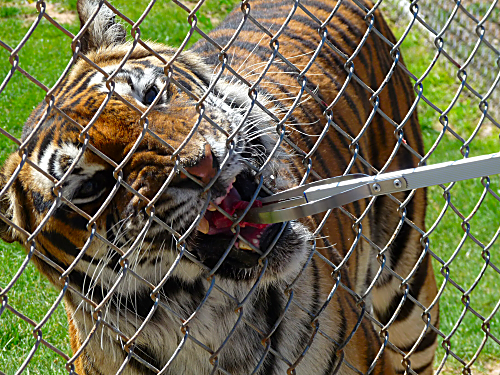 Jan really enjoyed this part.
One of the reasons we picked today to visit is that Wednesday is one of the park's predator feeding days. And being Wednesday, it's Turkey Day.
No dressing, just turkeys.
Whole or half ones, thrown over the fence.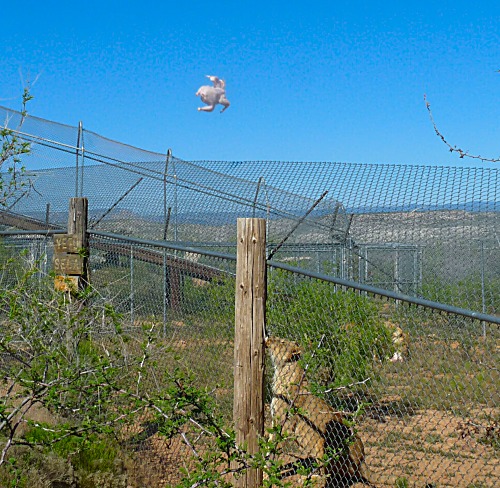 See, turkeys can fly!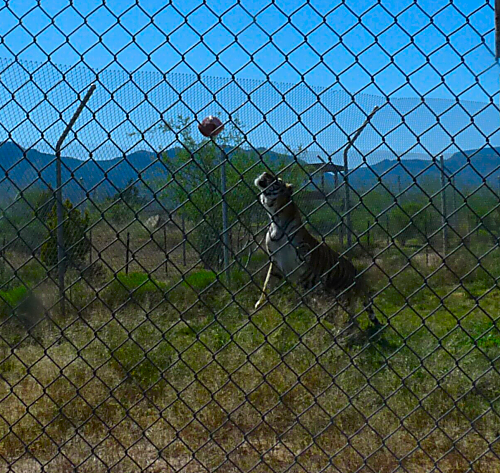 As the park guys drive slowly around the predator areas, you can follow them on foot or in a tram and watch the big animals get fed.
Another one of our favorites.
Finishing our visit a little after 4pm, we, of course, hit the gift shop. I thought about getting this enormous white tiger for Landon,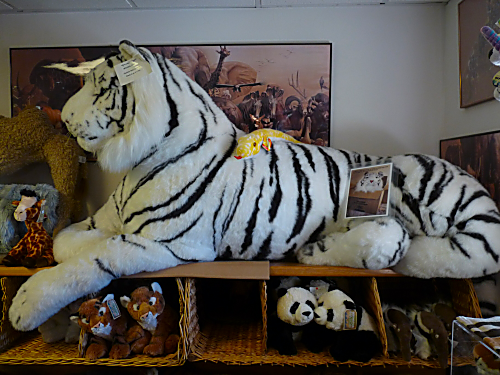 but it was $595.00. And that didn't even include the snake.
I was wondering how they shipped it, but a little closer reading revealed the trick. The tiger has a strong air bladder inside, when collapsed, allows the tiger to fit inside an 18" x 18" shipping box. And when it's delivered, you use the included air pump to 'pump it up'. Touching it, you would swear it's completely solid. Neat!
Leaving the park about 4:30, we decided to end a great day with a great meal, and so dinner at La Fonda fit the bill.
Just as great as last time.
Tomorrow will be another stay at home day, if only to rest up from all the walking we did today.
_____________________________________________________________
Thought for the Day:
I'm going to take care of my procrastination issues. Just you wait and see.
asdfad