Daily Archives:
April 27, 2015
Today was such a stay at the rig day that we not only stayed at the rig, we never left the rig. Actually we never even unlocked the door.. Can't get much more stay at the rig than that.
Yesterday, coming back to the rig, we decided to check out something I had noticed on the satellite view of the area around here. This is what I saw.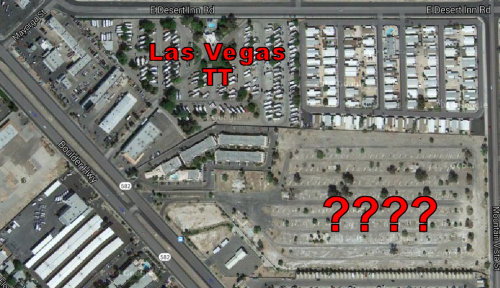 It looked to be an abandoned RV park right next door to the Las Vegas Thousand Trails, so I thought I'd see if we could drive into it and take a look.
And as I had thought, it definitely was an RV Park at one time, and larger than our TT park next door.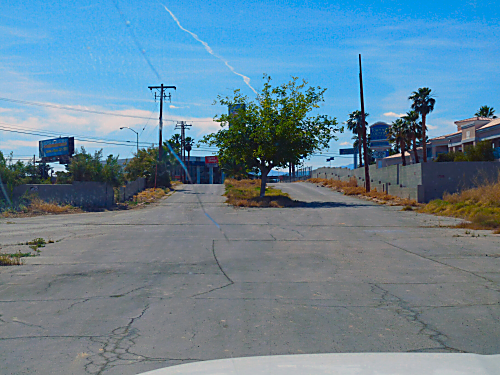 It must have closed before we first came here in March of 2008, and then again in 2010, because I don't remember any RV park along Boulder north of the Roadrunner RV Park where we stayed when we first visited here.
In a lot of the spaces you can still see the concrete patios, but we never saw any sign of pedestals or any other hookups. Too bad the Thousand Trails didn't take it over and expand the park.
I went online yesterday and made the reservations for Jan and I to ride the High Roller Observation Wheel Wednesday night at 8pm.
We're going to go by and pick up our tickets tomorrow afternoon, since we have to get them ahead of time. Don't know why we can just print out our tickets like most places.
Before our ride, we'll have dinner at Jimmy Buffett's Margaritaville which is just opposite the Wheel out on the Strip.
We've really been enjoying our mild weather here the last week, with highs in the low 70's and lows in the 50's at night. But it's not to last.
By Thursday it's supposed to be in the mid-90's. Glad we have a 50 amp hookup.
____________________________________________________________
Thought for the Day:
"Strength is the capacity to break a chocolate bar into four pieces with your bare hands- and then eat just one of the pieces." – Judith Viorst
adsfdsfds