Daily Archives:
April 22, 2015
Our daughter Brandi sent over this photo of our grandson Landon being awarded the game ball from last night's game.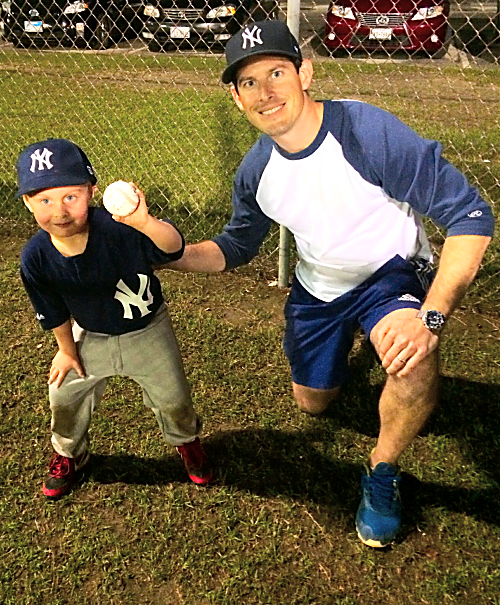 Yay! Landon!
Early this morning, our neighbor on our passenger side pulled out, and then a couple of hours later another rig pulled in. And this one was our rig's little brother, a younger American Eagle.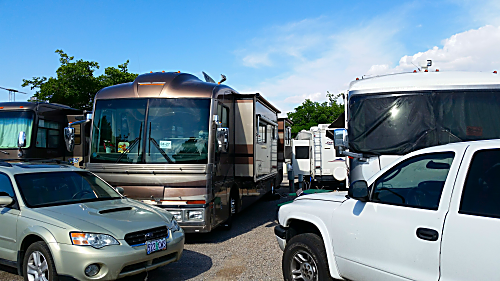 The last time we were parked next to another Eagle was at the American Coach Rally in Gillette WY in 2010. And although we weren't parked next to them, we did find an almost perfect duplicate to our 'Beauty'.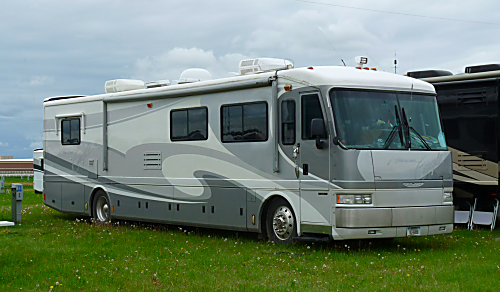 The only outward difference is the outside rearview mirrors. Our are chrome and mounted on the front of the rig. Theirs were black and mounted on the side.
Don't know what year our new neighbor's rig is, but it's not very recent because newer Eagles are either 42ft or 45ft, and have tag axles. Not so this one.
A little later I went to apply another epoxy patch to my radiator. I mentioned yesterday that I still found a very slight seepage after my first repair. But after our 3 hours of driving around Vegas yesterday, the coolant in the radiator wasn't down to any noticeable amount. But I added a little more epoxy just to try and complete the repair
Later, after helping Nick hook up his new printer to his new computer, Jan and I headed out to have dinner at another Vegas favorite of ours, Claim Jumper. We've eaten here on every Las Vegas visit, and it's our go-to place for steak here.
As Jan and I looked over the menu, I noticed that Claim Jumper is now part of the Landry's restaurant chain. Entirely owned by Tilman Fertitta, Claim Jumper is just one of over 55 chains and 500 locations, making Landry's one of the nation's largest restaurant corporations.
I was surprised to learn all the other places that Tilman owns, like the Golden Nugget Hotel/Casinos in Atlantic City, NJ, Biloxi, MS, Las Vegas, NV, Laughlin, NV, and Lake Charles, LA. And he also owns the Tower of the Americas in San Antonio. Wow!
But what really caught my eye was all the high-end steak places that are part of the Landry group, including Morton's, Vic & Anthony's, Simm's, Mitchell's, McCormick's & Schmick's, and on a slightly lower level, one of our favorites, Saltgrass.
When I mentioned this to our waiter, Greg, (easy to remember) he said all the Landry's restaurants get their meat from the same supplier, and the same quality. So that by getting a steak at Claim Jumper, you're paying a third to a half of what you would pay for exactly the same steak at Morton's or Vic & Anthony's a few miles away on the Strip. And boy was he right. My Ribeye was one of the best pieces of meat I've ever had, so very tender and juicy. Just great!
During our meal, the manager came by our table to see how our meal was, and we got to talking about our RV travels, and all the different Landry's restaurants we've eaten at. Very nice man.
Tomorrow will probably be another nice stay-at-the-rig day. Looking forward to it.
_______________________________________________________________
Thought for the Day:
"I looked up my family tree and found out I was the sap." – – Rodney Dangerfield
gsdfgsfg
Please remember, Our RV Adventures is an Amazon affiliate. When you do your shopping through any of the Amazon links here, including the Search Amazon  box in the right sidebar, it won't cost you any more, but we'll get a small commission on everything you buy. Just click on the Amazon link, then shop as usual. Thanks.
A couple of days ago I posted two photos of a quadcopter drone that was hovering over the Thousand Trails RV Park here in Las Vegas.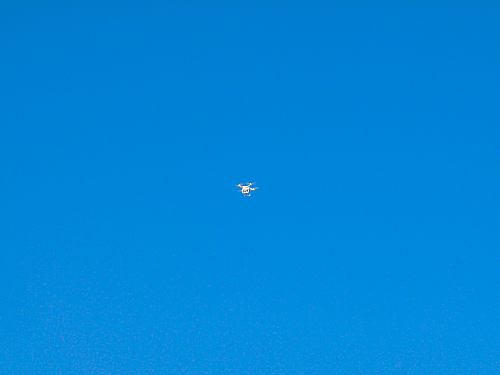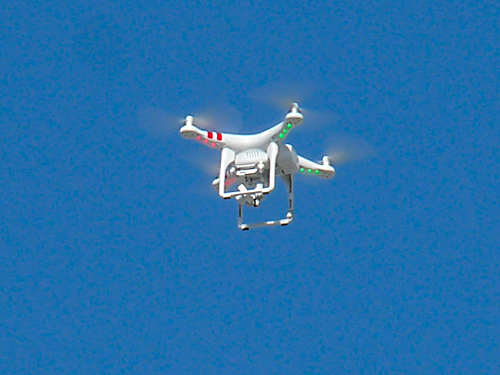 And it only took a few hours for blog reader Jesse Haman to solve the mystery. He pointed me to this YouTube video posted by Bill and Kris Osbourne who are two rows behind us here at the park. You can check out the video here.
Thousand Trails QuadCopter Video
In fact, if you stop the video at 1:06, you can see our rig from the rear directly in front. And you can see Jan standing at the rear of our truck that's sticking out to the left. I'm standing just to the right of our rig taking the above photos. Neat!
About 12:30 Jan and I headed out for a Wal-Mart run, and a first test of yesterday's radiator repair. And, so far, I'll call it 95% fixed.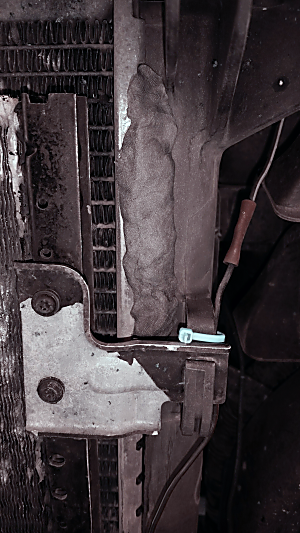 I still have a very tiny amount of seepage at the bottom of the repair, so it may be that I didn't extend the epoxy putty don't quite far enough. So I'll take another shot at it tomorrow.
One thing I noticed as we did our Wal-Mart thing is how much of their merchandise here is behind locked glass cabinets. Tools, paint brushes, light bulbs, all things that we've never found locked up before. Even the makeup area is cordoned off and is closed from 10pm to 7am.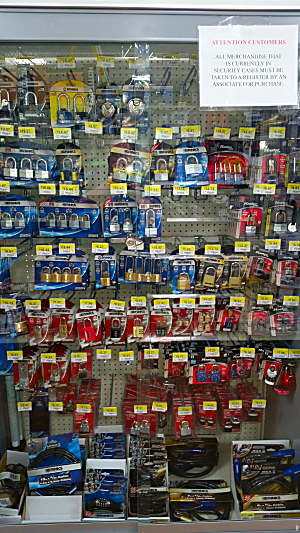 And even stranger, the locks are locked up. What's up with that? There's a big market in stolen padlocks?
About 4pm Jan and I drove down to the Henderson area to have dinner at our favorite Las Vegas Mexican place, Lindo Michoacan.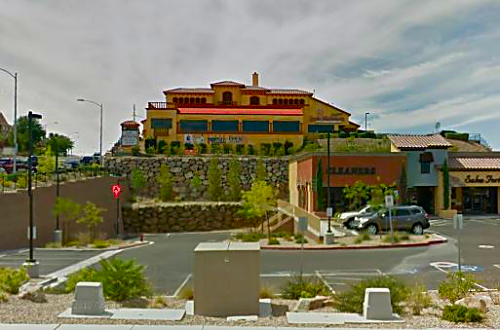 Besides the great food, one of our favorite things about Lindo is the great view of the Las Vegas skyline, especially when we're there at night.
It was pretty overcast this afternoon (after yesterday's 87, it only got to 79 today.) but I did get this shot showing the new High Roller Observation Wheel located right off the strip, just behind the Flamingo Casino.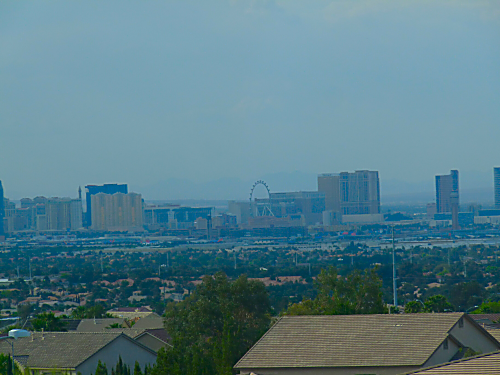 We both ordered our standard dishes here. I got the Carnitas a la Coca-Cola, made with pork chunks, marinated in a Coca-Cola-based sauce, along with chiles, fresh garlic, black pepper, cloves, and other spices. Really, really, really good.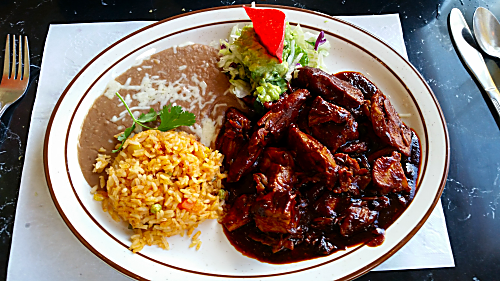 Jan went with the Shrimp Enchiladas, just full of large shrimp.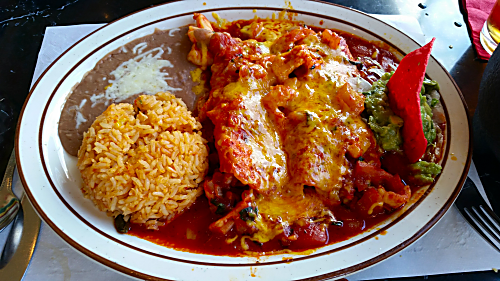 But in something pretty unusual for us, we started out with Strawberry Margaritas, on the rocks, with salt.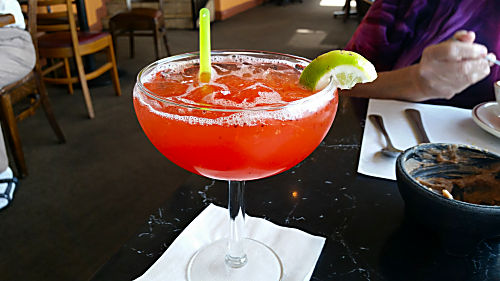 Probably the first time in a couple of years we had one. And unlike the margaritas served at a lot of places, these definitely had alcohol in them, a lot of alcohol. But boy, were they good.
Finishing up our great meal, we decided to drive over to the Strip and take in the sights. We drove from the airport all the way up to Fremont St, and then back down, enjoying the lights as they came on. Getting to Flamingo St., we took a left and drove back by the High Roller Wheel.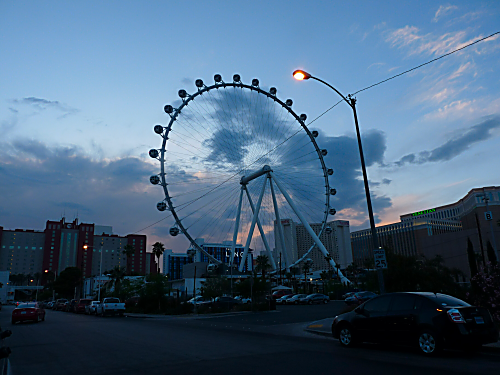 Opening a little over a year ago, the Wheel is 550 feet high and has 28 pods, each capable of carrying up to 40 passengers. It's now the largest wheel in the world.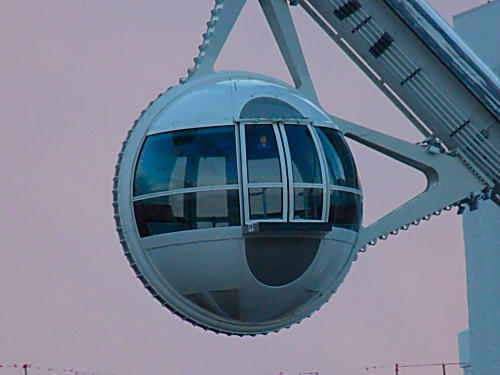 The wheel takes 30 minutes to make one revolution and it never stops. Passengers load and exit as it moves. The tickets range from $25 in the daytime to $35 at night.]
And at night it looks like this.
We'll have more on the Wheel when we ride it in the next few days.
__________________________________________________________
Thought for the Day:
WARNING: SOME IMAGES MAY BE DISTURBING.  VIEWER DISCRETION IS ADVISED.
asdfadsf