Daily Archives:
April 29, 2015
Jan and I headed out about 4:15 for our evening's festivities, with our first stop the parking garage at the back of the Flamingo Casino. Our destination was Jimmy Buffett's Margaritaville out on the Strip side of the Flamingo. We've made this walk from the parking garage to the restaurant  a number of times, which is good, because it's kind of like walking a maze.
We came this early knowing that we would probably have a pretty long wait, based on previous visits. But perhaps because of the restaurant's expansion since we were last here two years ago, we had no wait whatsoever, and were seated immediately.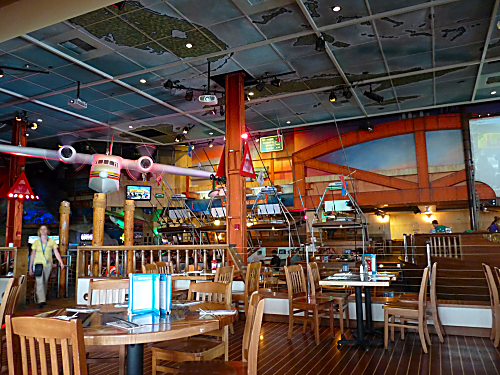 This area where we were seated tonight was a storeroom for the Flamingo Hotel when we were here before.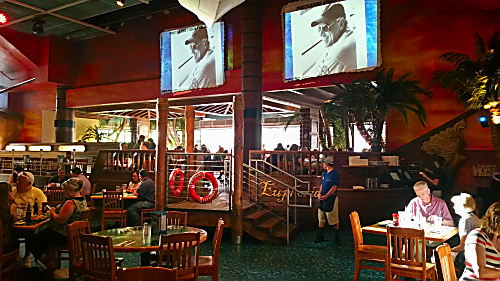 I didn't plan on having a drink tonight, but when I saw a Habanero Margarita on the menu, I had to try it. And it was really good. And hot.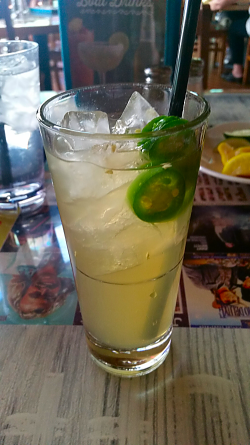 I did take the jalapenos out of the drink and put them on my Cheddar BBQ Burger that I had below, along with an order of their delicious Cilantro-Lime Coleslaw that we shared. Plus the Roasted Jalapeno was really good.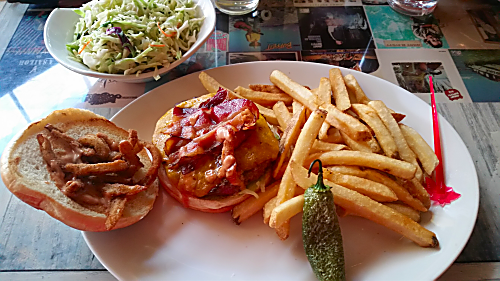 Jan went with the eponymous Cheeseburger in Paradise, which despite being based on the song, is not prepared correctly.
According to the menu, Jan's burger had American Cheese, lettuce, tomato, Paradise Island Sauce, and a big Kosher Pickle.
But according to the song, it should have Muenster cheese, lettuce, tomato, sliced onion, and Heinz 57 sauce. But the big Kosher pickle was right, at least.
Now a lot of people, including some Internet sites,  think the lyrics are "medium rare with mustard'd be nice." But Jimmy Buffett has confirmed that the lyrics are "medium rare with Muenster'd be nice.", as in Muenster Cheese.
As Jimmy Buffett says, "Who in the hell puts mustard on a hamburger.?"
Get it right, people!
For dessert we shared an order of their Chocolate Banana Pudding, which is actually Bread Pudding with sliced bananas, ice cream, whipped cream, and chocolate sauce.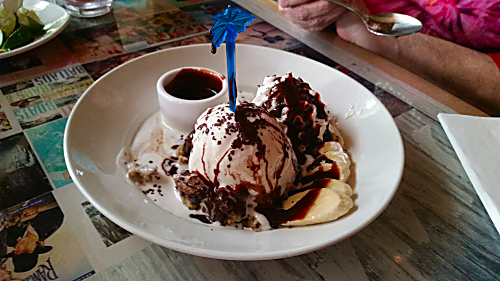 It was a great meal, as the big smile on my beautiful wife shows.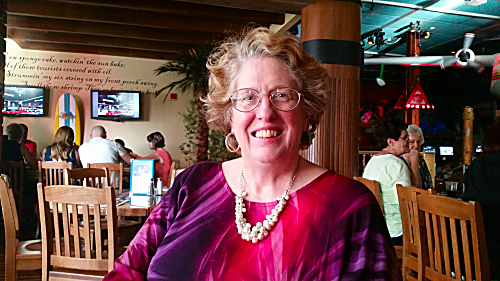 Because I had allowed extra time figuring we'd have a wait at the restaurant, we were finished up by 6:30, but our High Roller ride wasn't until about 8pm.
While we were deciding how to kill an hour or so, we walked outside on the Strip and saw these two Adirondack chairs just waiting for us. So we spent about an hour sitting out on the Strip watching the world go by.
Well, watching the world, and a lot of strangely dressed people go by. But it was fun.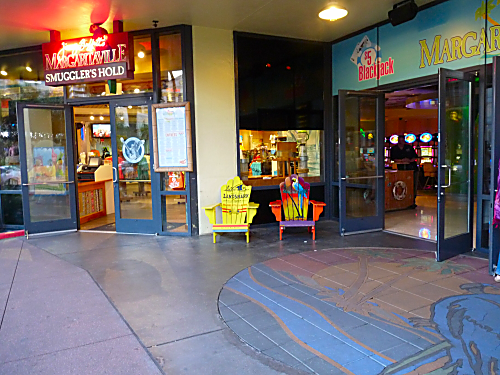 We got out to the Wheel a little before 8pm, and took the escalator up to the boarding platform.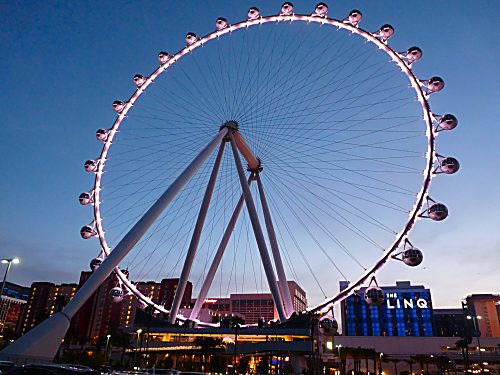 The Wheel doesn't normally stop for loading and unloading people. It's moving slow enough that you can step right in as the pod travels down the platform. But apparently not spilling the liquor is more important than the passengers, because the Wheel does stop so they can move the booze carts on and off the pods that offer drink service.
I didn't see it as we were loading, but Jan said she saw some extra cleanup going on in one pod after they wheeled the drink carts off. Possibly combined with the alcohol, someone got a little queasy during the ride. I did noticed that they skipped loading any passengers on that pod as it came around.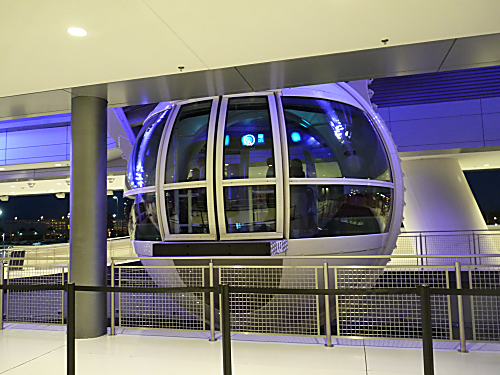 Now supposedly 40 people can be crammed into one of these pods, but if so, they're going to be standing shoulder to shoulder.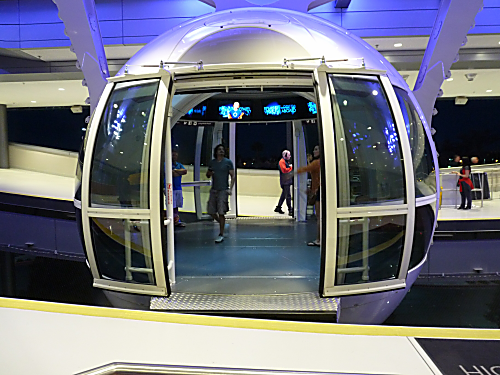 For some reason these pods remind me of the ships in 2001 A Space Odyssey.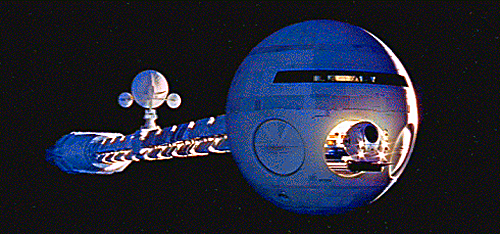 "I'm sorry, Dave. I'm afraid I can't do that."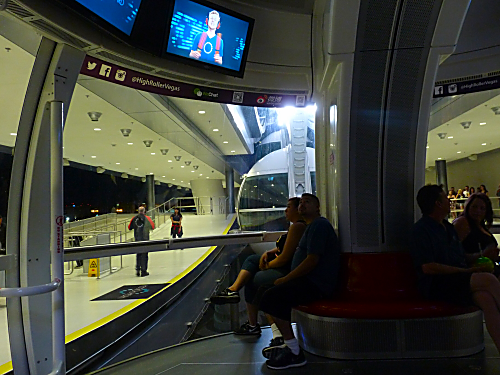 Luckily for us we only had 8 people on our pod, so there was plenty of room to move around.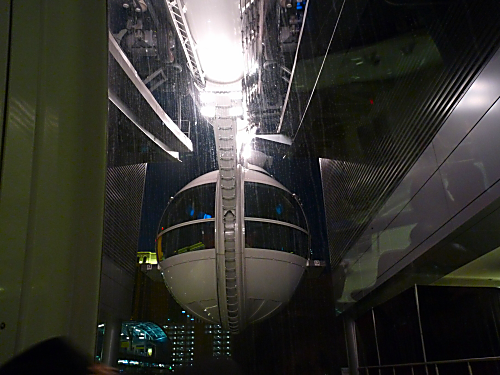 As we moved around our 550 foot arc, the views were fantastic.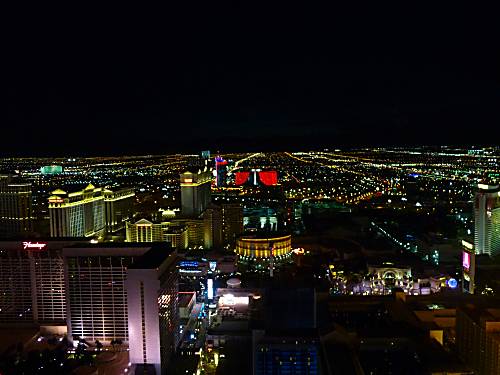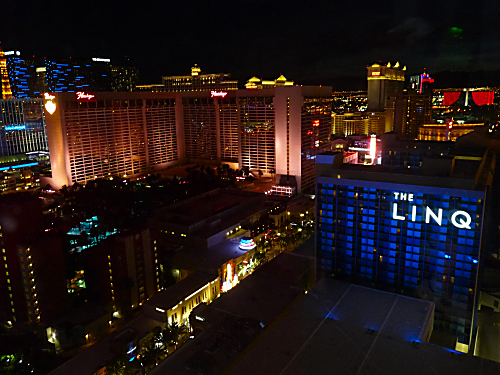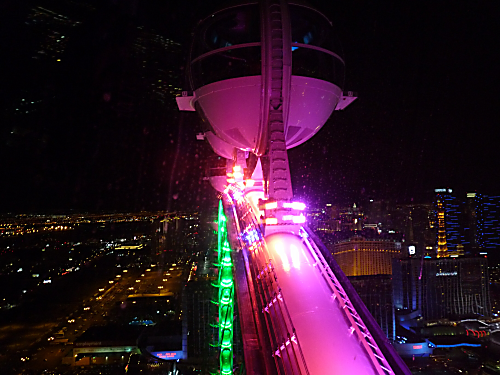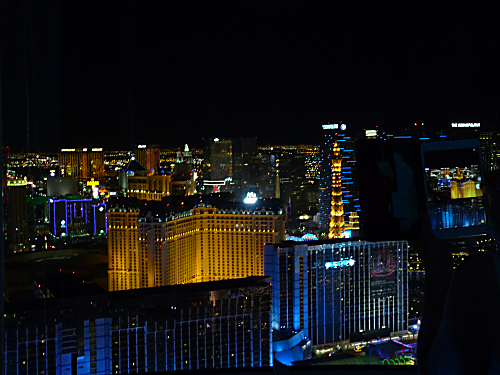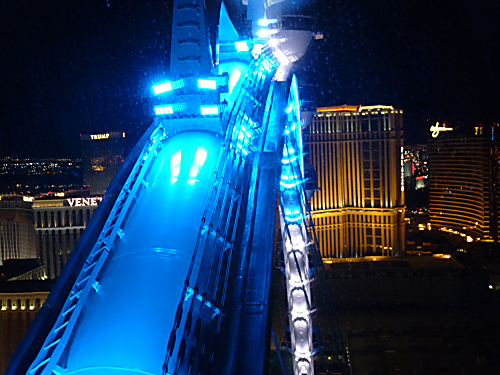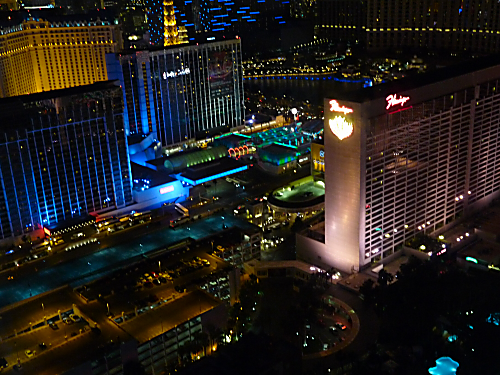 One thing I found interesting during the ride, were the Las Vegas-based trivia questions shown on the overhead TV screens, and one of them brought back memories of my father.
The question was "What Casino did mobster Bugsy Segal name after his long-legged girlfriend, Virginia Hill?" The answer of course is the Flamingo. But the reason the question brought back memories of my father was that one time he mentioned he knew Virginia Hill.
Virginia was born in a suburb of Birmingham, AL, and somewhere along the line my father encountered her in a "professional" manner, as he said. The reason for this was that for many years my father was a detective on the Birmingham Police force, and apparently Virginia Hill was already on the wrong side of the law before she met up with Bugsy and the rest of the Vegas mob.
It's really strange the things that can trigger a memory.
One thing funny was that after the Flamingo question, there was a Bonus Hint. It said to remember that most women don't like to be compared to flamingos. Word to the wise. But I guess if you're a mobster, you can get away with it.
Finishing up, and due to the three booze stops, our Wheel ride ran about 35 minutes, giving us plenty of time to enjoy the fantastic views. Then leaving our pod, we made our exit out through the obligatory Gift Shop. There's always a Gift Shop.
We got home about 9pm after a really great time, with more fun on tap for tomorrow,
More then.
_____________________________________________________________
Thought for the Day:
"Only when lions have historians, will hunters cease being heroes." – African Proverb
gsdfgsf