Daily Archives:
April 18, 2015
After our morning coffee, we heard from blog reader Judy Hughes who's parked right down the road at the Camp Verde RV Resort. We wanted to get together, and since we leave tomorrow, and and she leaves Monday, today was the day.
Since it was close to both of us, we decided on La Fonda for lunch at 12 noon.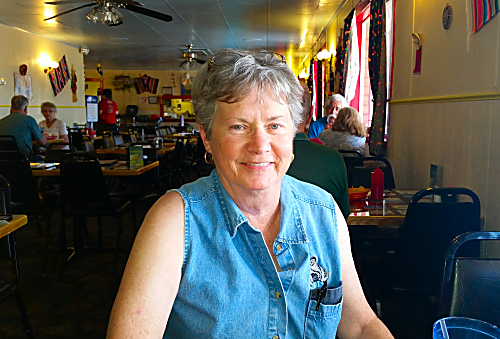 We had a great time getting to know Judy and hearing about her solo adventures in her Winnebago Brave. In fact, we didn't leave La Fonda until after 3pm, which seems about normal for RV'ers getting together.
Finally saying our goodbyes and making a date to get together again next week in Las Vegas, Jan and I headed on into Camp Verde to pick up a couple of orders of the Baked Spaghetti from the Crusty's Pizza. We'll divide them up and freeze them and then be able to have them later as a meal.
Then it was back into Cottonwood to pick up a couple of breakfast sandwiches at the Jack in the Box. Since we plan on leaving for Las Vegas by 8am, we won't really have time for a real breakfast, so coffee and these sandwiches will be it.
Getting back to the rig about 5pm I spent some time getting everything ready to go outside. So tomorrow morning I'll just have to let in the awnings, unhooked shore power, bring up the levelers, and we'll be ready to go.
While I was putting away the water filter, I opened it up to take a look at the filter cartridge inside to see what it looked like after two weeks.
It started like this.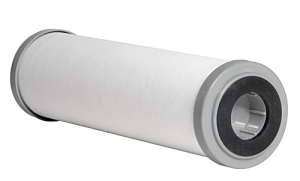 And now looks like this.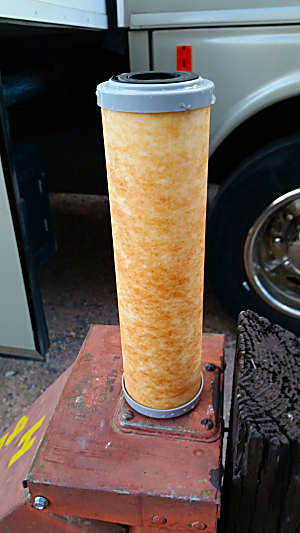 Not too bad, I guess, and the water definitely tastes better than with old little one.
Tomorrow we've got a 305 mile trip over to the Las Vegas Thousand Trails where we'll be for another two weeks before coming back here.
____________________________________________________________
Thought for the Day:
Never Put Off Today what you can Put Off Tomorrow.
asdfads