Daily Archives:
April 25, 2015
After coffee and taking care of some chores, I got back on my  PacBrake problem. I had gone online and found the lubrication instructions on the PacBrake website.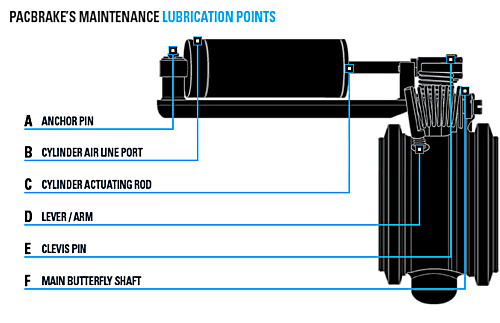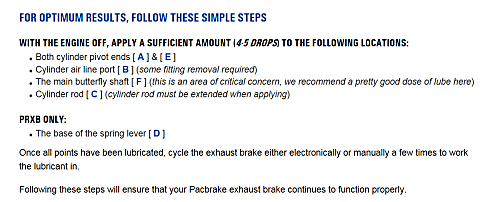 The first thing was to get access to the PacBrake under the bed, and that means removing a lot of our stored stuff out of the way.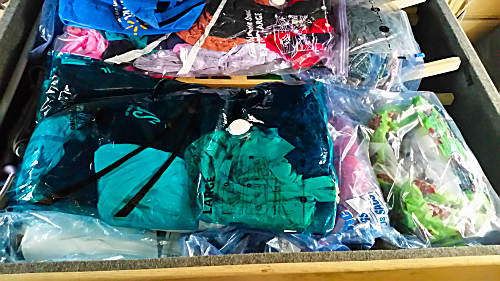 So after lifting the bed, and then lifting the engine access cover, I could now get to the PacBrake itself.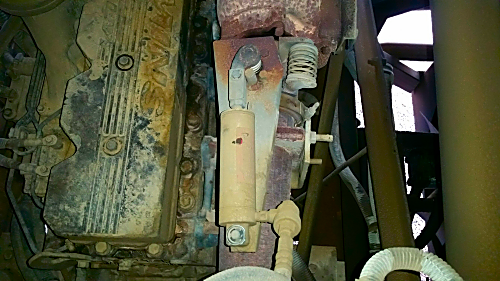 The unit is just to the right of the engine and fairly accessible. Here it is from the side.
I started lubing all the points listed in the docs. There was a problem matching up the actual lube points on paper with the actual unit since I'm looking at it from the top, but the docs show it from the side.
There are two lube sites that I'm still unsure about that, which means I'll have to put in a call to PacBrake on Monday.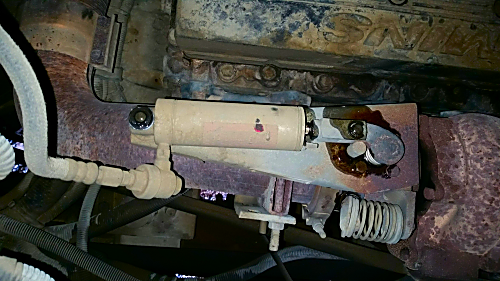 I also need to figure out how to manually trigger the PacBrake, first, because I also need to lube the air cylinder's shaft, and second, to be sure it's actually working. I think I have a good idea how to trigger the air solenoid manually, or electrically, actually, but I want to be sure.
But however I do it, I know I'll have to crank up the engine, since the valve itself is air operated. More later.
For dinner, Jan and I had been talking about a good hamburger, and after talking over the obvious, McD, Wendy's, Five Guy's, or Smashburger, we decided to give In N Out Burger a try. It also helped that there was one pretty close.
The last (and only) time we ate at one was in February 2008 when we were in San Diego during our first month of RV'ing. We remember liking the burgers, but it was Friday night and the place was full of screaming teenagers. Don't know if that's only reason, but whatever the reason, we've never been back to one. Until now.
Originally they were only located in California, but in the last few years, they've been spreading east. They're even in Houston now.
We got there a little after 4:30 and found the place pretty busy. Getting in line, the first thing we noticed was the simplified menu board, harking back to the old days of McDonald's.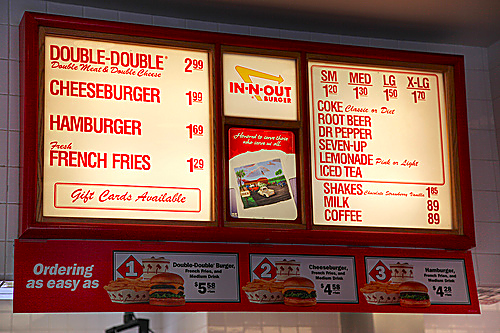 Just cheeseburgers, hamburger, fries and drinks. Just how McD started out.
Of course you do apparently have a lot options, with their Secret Menu, and a Super Secret Menu. We both got the Double-Double (two patties, two slices of cheese) from the regular menu, but they also have a 3 x 3, and a 4 x 4 on the Secret Menu if you're really hungry. We both got the #1 Combo which included fries and a drink.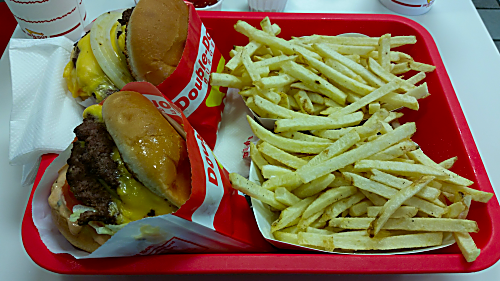 But one bite told me why In N Out has the reputation it has. This has to be one of the best 'inexpensive' burgers I've ever tasted. And by 'inexpensive' I mean not one of those $7-9 or higher burgers. The Double-Double is only $3.50
And the fries were delicious too. A little research tells the story. They do pretty much everything in-house, or at least in-company.
They have their own meat companies that that fresh grind the patties and deliver them fresh, not frozen, to every location. The same goes for their buns. And like Five Guy's and others, they do their own fries in-house, starting with the raw potatoes
They also make every burger to order. They say they don't have microwaves or heat lamps in their locations. And it shows.
The other thing I noticed was how clean the dining area was. They had 3 people running around, wiping things down and cleaning up. In fact within seconds of someone leaving a table, it was cleaned off, wiped down, and ready to go again.
And their drive-thru shows how popular they are.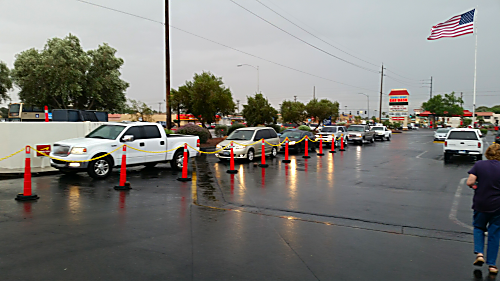 They have to rope off the area because it winds around through parking lot of the shopping area.
We'll definitely go back. Often.
Tomorrow we're going to drive down to Henderson at the bottom of the Strip to visit the The Lion Habitat Ranch. Originally it was the off-duty home of the MGM Grand lions. But when that exhibit was shut down a few years ago, it became their full-time home, along with giraffes and other animals. And they have a bunch of lion cubs just born earlier this month. Sounds like fun.
______________________________________________________________
Thought for the Day:
If laws worked, there would be no crime. – Claire Wolfe
asdfadsf