Daily Archives:
April 10, 2015
happened today.
About 10:15 Jan and I walked down to the Homestyle Grill here at the park to have breakfast. Turned out to be really good, except for the 'strange' biscuits. To paraphrase Sheldon Cooper, "In what universe are these biscuits?"
I wish I had gotten a photo, but I guess I was too stunned at what they were calling these. First off, they were obviously baked in a pan and cut into squares like a sheet cake. And that's what the texture was like too, like cake.
And with a little sugar and some icing, that's what it would be, cake.
Walking back to our rig, we came across another American Eagle, in this case, a 42 foot Tag Axle 2003 model. I got to talking with the owner who said that they had previously owned a 1999 like ours and really liked it. He said they kind of wish they hadn't brought a 42 foot model due to the problems with finding sites that are long enough for them.
Jan and I ended up spending most of the afternoon just reading and napping, with not even the TV on. A very nice way to spend the day.
Later, about 4:30 Jan and I drove into Cottonwood to have dinner with Dave and Lynn Cross at the Golden Dragon Chinese Restaurant.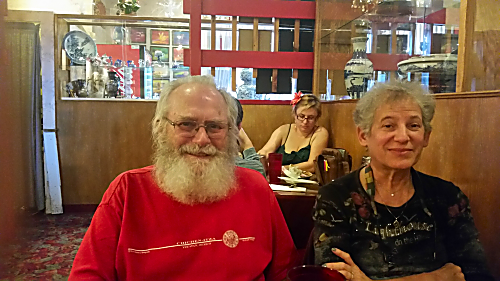 Although it was not as good as the #1 Eastern Super Buffet down in Apache Junction, but it wasn't bad. The most noticeable difference was the selection, as it was only about half what they have at #1. But what they did have was pretty good, especially the Hot and Sour Soup.
Yesterday, as I was walking back to get something out of the truck, I noticed a little seepage and damp ground from one of my two old sewer hoses, luckily not the new one. Looking for the problem, I discovered one of those pesky little pinhole leaks. But rather than throwing the hose away, I decided to spray the leak with Rust-Oleum Leak Seal.
I used this stuff earlier this year to seal leaks in our canopy when we were gate guarding, and found you could spray on an active leak and it would seal it instantly. And it did the same to my sewer hose leak, since when I checked today, there was no sign of any leakage.
Great Stuff!
____________________________________________________________
Thought for the Day:
You can judge the character of a man by how he treats those who can do nothing for him.
adfadsfd