Daily Archives:
April 6, 2015
About 1pm I went up to the park guardhouse to let them know what site we were in and to ask about receiving packages from Amazon.
Their handout says they don't take USPS mail, but with Amazon you never know how your package will be shipped. It could come via UPS or Fedex, which is not a problem. But often Amazon uses the UPS or Fedex version of Smart Post. This is where the package is shipped via one or the other to the local post office, who then delivers it to the local address. So what I wanted to know is if packages are delivered that way are considered USPS mail and would be refused. But when I ask the ranger about that, he said there is no problem with any USPS mail. So I guess I'll put my order in and see what happens. During our last visit to Wal-Mart in Apache Junction we picked up a new toy for Mister.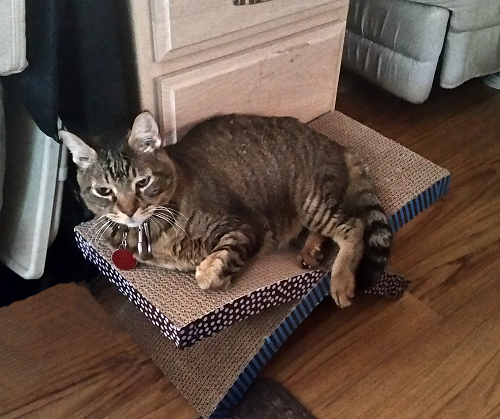 It's made out of recycled corrugated cardboard, and is supposed to be a combination bed / scratching post. Well, he's got the bed part down, and spends a lot of time on it, but he's apparently a little unclear about the scratching post part. He's used it once, but would rather use my leg or the curtain valances. Oh, well. For dinner tonight we had leftovers again, in this case, the ones from Joe's Farm Grill. We've still got our leftover Famous Dave's BBQ, but we'll probably go out tomorrow for dinner so we can stock up on more leftovers.
Looks like we've got a run of really nice weather coming up, with days in the low 70's and nights in the high 30's. Really nice weather, especially since we've only got 30 amp electric here at our site, so we can only run one AC. ___________________________________________________________________ Thought for the Day: We hang the petty thieves and appoint the great ones to public office. – Aesop adsfdf