Daily Archives:
April 4, 2015
Today is our last day here in Apache Junction. We've been here for a little over two weeks and we've had a great time as usual, especially since we spent it with our best friend's, Nick and Terry Russell.
After some preliminary packing stuff away, Jan and I headed out about 1pm to the Wal-Mart over on Signal Butte for a few items. Getting there we realized we were at a Wal-Mart on the Saturday afternoon before Easter. Certainly not the best idea, but it turned out not to be too bad. The only thing was that they were out of stock on a couple of things we needed, but since we were passing the WM on Apache Trail on the way home we stopped off there too and found our missing items. So, all is good.
Since Nick and Terry were doing family things today, about 4pm Jan and I drove over to SanTan Village to have one last meal at the Famous Dave's BBQ there.
Our waiter, Ethan, remembered us from our last visit just from what we ordered. (Not sure that's a good thing.) By getting there about 4:30 we avoided the crowds that showed up by 5.
As usual I got the Ribs N Meats platter which gives me enough to take home. And by taking half of it home, it leaves room for Jan and I to split one of their Bread Puddings, really, really good.
Getting back home about 6, I started packing stuff away in the truck and getting us ready to roll tomorrow morning. One of the things I did was to fasten the front license plate back on where I'd painted the bumper a few days ago.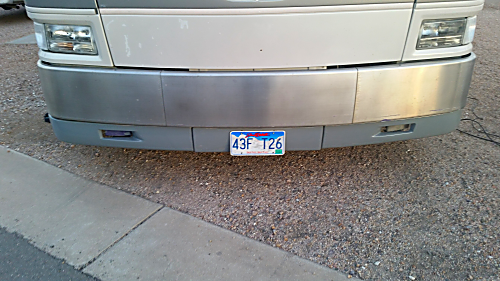 It really looks good, so I may just put another coat of the Rustoleum Protective Enamel on, and not try to change the color to a lighter one. It certainly looks better than it did when our son Chris started on it.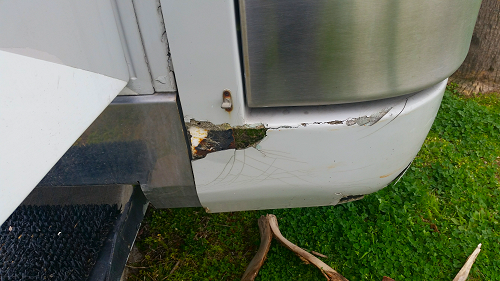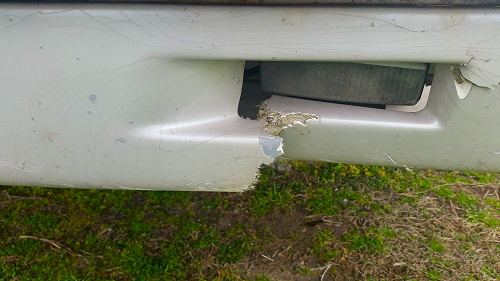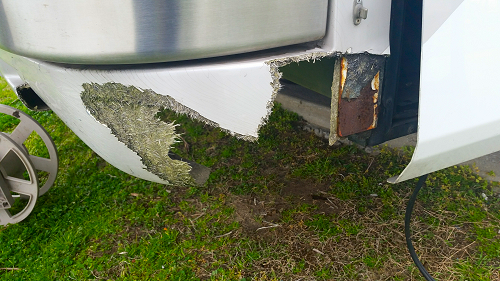 Great Job, Chris!
Nick and Terry came over about 7pm to say Goodbye for what's probably the last time this year. We might meet up at the Verde Valley TT in May, but it's a slim chance. So it will most likely be next spring in Florida.
As seems to be our habit, once we're ready to roll tomorrow morning, we'll run out and have breakfast, probably at the IHOP down on Southern.
We are looking forward to the cooler weather up in Verde Valley compared to here. For the next week or so, it's supposed to be sunny, with low 70's in the daytime, and low 40's at night. Really nice.
__________________________________________________________________
Thought for the Day:
"History never repeats itself but it does rhyme" – Mark Twain
dghhgg