Daily Archives:
April 20, 2015
It was nice to be able to sleep in this morning and not have to get up at 6am like yesterday. But back to work. So after our coffee this morning, I went back to work on my magnetic shades.
Parked where we are, we're facing due west so we were going to need the solar shades when the temps start hitting 90 next week. So I cut slits in the hem of the two front screens so I could tuck additional magnets into place. I then sealed the slits with a small piece of Gorilla Tape.
Since I'm still in beta test on this, and haven't fastened the magnets to the inside yet, Jan stuck the magnets on by hand as I put the shades in place outside. The extra magnets seemed to make the screens much more secure, so we'll see how they hold up over the next few days.
After a quiet afternoon, we left the rig about 4pm,  heading out to have dinner at the Boulder Station Casino right up the road. As I was locking the door, I looked up at the noise of a jetliner passing overhead. But also overhead, about 100 yards away and about 200 feet up, I saw this. Grabbing my Panasonic camera from inside I got these photos.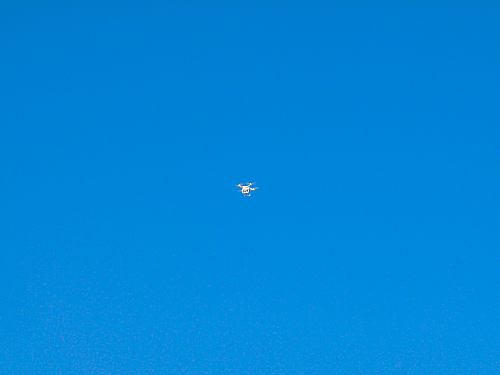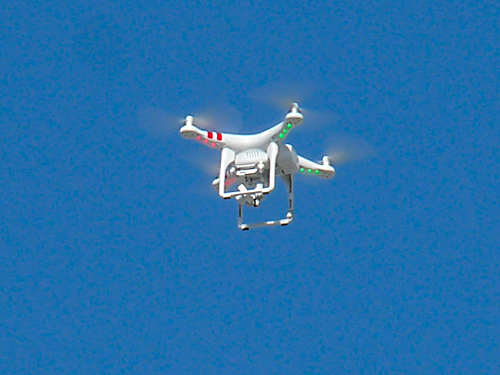 Before I zoomed in, I thought it was probably a DJI Phantom, and so it was.
You can buy one with all the bells and whistles here on Amazon for only $1175.00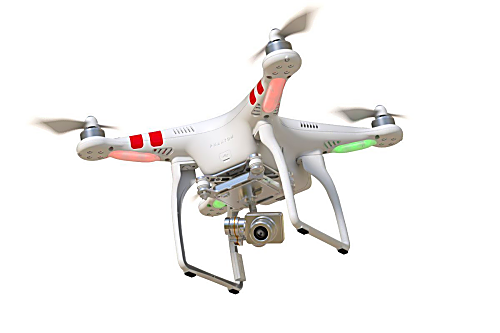 DJI Phantom 2 Vision+ V3.0 Quadcopter with Gimbal-Stabilized 14MP, 1080p Camera
One thing that was kind of curious is that as I was snapping  photos, I could tell the quadcopter was slowly rotating. When it got to a point where the camera seemed to be pointing in my direction, it suddenly started moving away from me at a pretty quick pace.
As Jan said, "Coincidence? I think not."
Who knows?
We got to the Buffet restaurant at the Casino a little before 4:30, apparently just ahead of the rush. We only waited a few minutes for a table, but by the time I got back to our table from the buffet, the line was out around the door. Great timing!
After a really good meal for only $10 each (cheaper than Golden Corral), we drove out on Desert Inn Dr. to check out a couple of possible places to fill up with diesel when we leave here in two weeks. Luckily for us the two places with the cheapest diesel prices are right down the road for us, and right on our way out of town. And there's plenty of room to get the rig in and out.
Neat!
_____________________________________________________________
Thought for the Day:
Why did the Federal Government need an Amendment to the Constitution to ban alcohol consumption, and another Amendment to make it legal again, but didn't need anything to ban certain drugs?
Discuss among yourselves.
gsdfgsdfg