We Lucked Up Yesterday . . .
Please remember, Our RV Adventures is an Amazon affiliate. When you do your shopping through any of the Amazon links here, including the Search Amazon box in the right sidebar, it won't cost you any more, but we'll get a small commission on everything you buy. Just click on the Amazon link, then shop as usual. Thanks.
Plus, many of you are sharing our blog with others using the "Share this:" buttons at the bottom of each blog. Again, Thanks.
---
---
We both slept in this morning enjoying the nice cool (cold) sleeping weather. With it going down to 37° last night, it's the coldest we've seen in a couple of months, but very nice.
And we've got more of the same coming for us up in Bend for the next couple of weeks. Except for an 81° forecast for this Thursday, it's pretty much 50's and low 60's as far as The Weather Channel can see.
I had an email this morning from a National General claims adjuster saying that the 'door scrape guy' from Apache Junction has filed a claim.
He's asking for about $500 for the repair. But the funny thing is, he sent in this photo,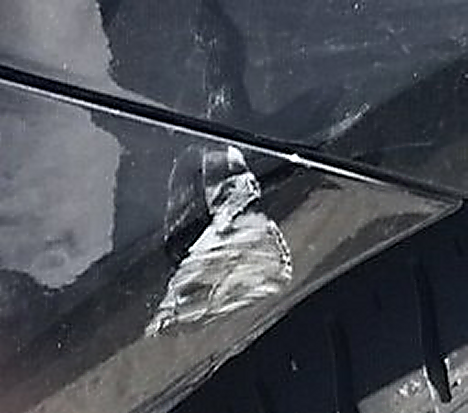 and not the one after I wiped all the paint smear off.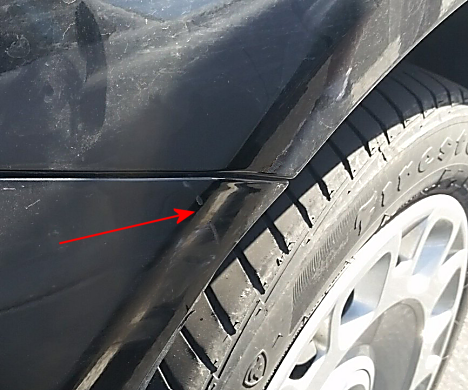 Otherwise it's hard to see what's he trying to repair. A little rubbing compound and some wax and it's gone.
As I said in the blog post on April 1st,  Apache Junction Door Scrape, when I rubbed the paint off, I felt no damage to the metal underneath. So I recommended that they deny the claim, or at least ask him to submit a more recent photo, preferably with a dated newspaper in the photo as well.
We'll see how it goes.
---
---
About 1:30 Jan and I headed up I-5 about 25 miles to Yreka to have lunch and make a Wal-Mart run.
But we first we drove a couple of miles in the other direction to get a shot of these trucks at Truck Village.

Turns out these are in-service fire tankers that are assembled on site, and are used to fight northern California fires by CalFire. As far as the palette, the owner just loves bright colors and looks forward to coming up with new ones.
Probably hard to misplace one in a forest fire.
I like this so much I added the photo to the photos on the blog home page.
Heading back toward Yreka, our choice for lunch was a favorite of ours, the Black Bear Diner.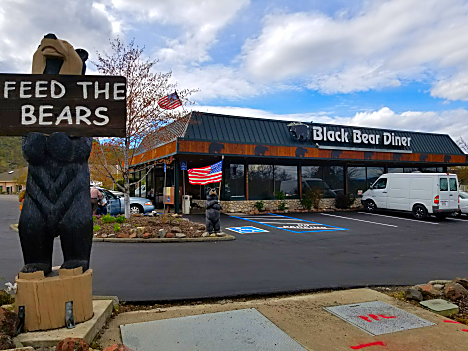 We've eaten here several times in the past, and it's always been delicious. Looking over the extensive menu we both zeroed in on the BigFoot Chicken Fried Steak with steamed veggies and red-skin mashed potatoes and gravy.
But we started out with a really good salad with their homemade Bacon Ranch dressing.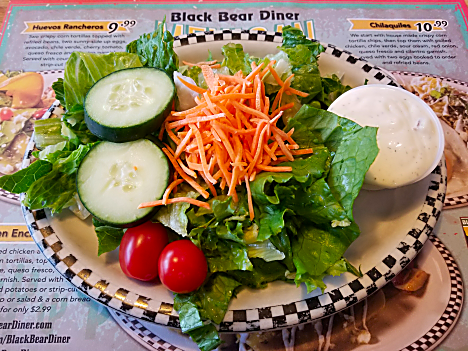 Really great dressing.
And when our CFS came it was easy to see why they called it 'Bigfoot'.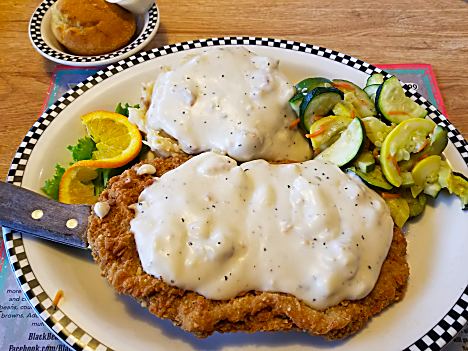 We both remarked how good the breading was, as well as the gravy. Everything was very well seasoned too. And it was big enough that we brought half of it home for tomorrow night's dinner at Bend.
---
---
And of course we couldn't come home without a couple of their individual serving pies. Jan got her favorite Coconut Cream Pie,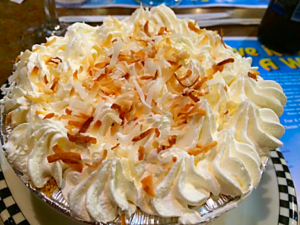 while I got the Apple Crumb Cobbler.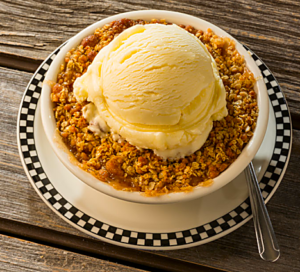 Bagging up our take-home food, we headed down the road to the nearby Wal-Mart, but along the way I stopped at a couple of auto parts stores looking for a new cap for our Dakota's coolant recovery tank. The old one broke off the other day and fell down into the frame and disappeared.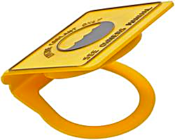 Right now I've got Gorilla Tape over it until I get a replacement, but no luck. Both O'Reilly's and AutoZone could order me one but didn't stock them. Oh well, there's always Amazon when we're in Bend.
Finishing up at Wal-Mar we headed back to Weed and home. Along the way we noticed that we still couldn't see Mt Shasta, at least not all of it.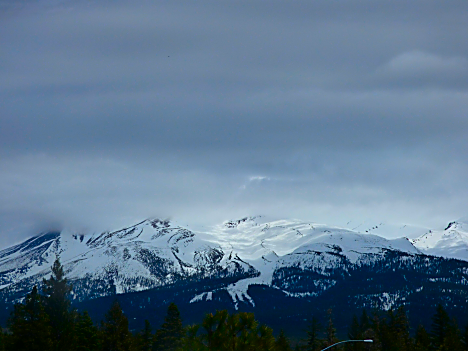 It's been obscured by clouds all day, so I guess we really lucked up yesterday. The mountain actually rises up about half way into the clouds. Weather like this is why pilots say "Clouds have rocks."
I'm still trying to figure out why I ran out of diesel. We had traveled 919 miles since we filled up in Tucson after the Escapade. Based on our normal 8 mpg, that would take about 115 gallons, leaving us 35 gallons in our 150 gallon tank. Even dropping back to 7mpg, that had us using about 130 gallons, leaving 20 gallons. And we've never gotten MPG that low.
When we ran out, our Silverleaf showed we had 28.8 gallons left. And I was going to fill up right up the road as I had planned.
I checked under the rig for fuel leakage when we were parked on the concrete pad at the Flag City RV Park in Lodi later that evening and found no puddles on any kind.
Now if I was really paranoid (and I am) I might wonder if someone might have siphoned diesel of the rig's tank. Other than that, I don't know.
But we'll see.
Tomorrow we've got about 190 mile trip up to the Bend/Sunriver Thousand Trails, but before we leave about 10, we're heading into downtown Weed to have breakfast at the fabled Hi-Lo Diner, the estranged parent of the Black Bear Diner chain.
---
Thought for the Day:
"By the time a man realizes that his father was right, he has a son who thinks he's wrong." ― Charles Wadsworth
dgdhgdg