Daily Archives:
June 2, 2017
First off, the photo problem with yesterday's blog has been fixed. I didn't have time to fix it this morning before we left the rig. Still don't know what caused the problem, but the link to the photos were messed up in the blog, and the photo itself didn't get uploaded to the blog like it should have. I did check the blog after I posted it, but didn't go down far enough to notice the missing photos in the middle. Sorry about that.
---
---
Once again we were out the door a little before 9am, heading for Gillette, WY, about 125 miles away. But our first stop was the Mobil station right before we got on I-90.
We needed gas for the trip, and also wanted to check the place out to get diesel for the rig when we leave here . . . well, whenever we leave here.
We're booked here until Tuesday the 6th, but we may stay until the following Saturday. We'll see. But it does look like the Mobil station would be an easy in/easy out for the rig, and plenty of room to hitch up the toad.
Our road trip to Gillette was two-fold, or maybe three-fold. I wanted to pick up a specially-ordered part for our rig's Onan generator, we wanted to eat at Humphrey's, a favorite restaurant of ours, and on the way home, take a detour out to Devi's Tower on the way home.
Well, two out of three ain't bad.
We were picking up a new starter/solenoid for our generator. A couple of months ago we tried to use our generator and it wouldn't start. In fact , it wouldn't even crank. Normally the start switch on the dashboard flashes as the generator cranks, but nothing this time.
My first check was the big 300 amp fuse in the battery bay that feeds the 12 volts to the generator.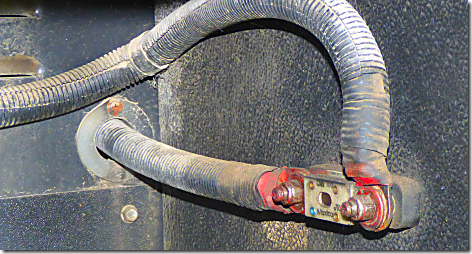 But is was fine, so while I was there I took it apart and cleaned and wire-brushed the contacts.
---
---
Then it was on to the connections to the generator itself, and for that I had to crawl under the rig. After checking that I had 12 volts there I disconnected the 300 amp fuse. Then I cleaned and wire-brushed those connections too..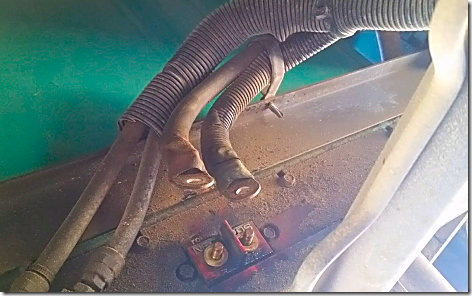 After hooking everything back up, I stay underneath with my voltmeter and had Jan try to crank the generator while I checked the voltage at the connections. Starting with 13.2 volts, it dropped to about 12 volts when she tried to crank it. So something was doing something.
I had noticed that when I was trying to crank it from the generator itself, the light in the switch was flashing, and I could hear the slight clicking for a few seconds as the fuel pump pressurized the system.
---
---
After I finally tracked down the full service manual for the unit, I used that to translate the error code that the button light was flashing. And that code indicated "Low Cranking Speed."
Well, duh!
How about NO cranking speed?
But one thing I noticed was that I never heard anything from the starter, OR the solenoid.
Now every solenoid I've ever fooled with makes a click or clunk of some kind when it's engaged. So I put my hand on the solenoid while I tried to crank it and didn't feel anything either.
And since I had power to the contacts on the solenoid, I was going with a bad solenoid.
But I quickly found out that Cummins/Onan now longer sells the solenoid separately, but only with the starter as a complete unit. And it was $140 and a special order. Hence our trip to Gillette.
Then after picking up our starter, we headed into downtown Gillette to have lunch at Humphrey's Bar & Grill, a really good place where we've eaten a number of times, including with our good friends, Nick and Terry Russell.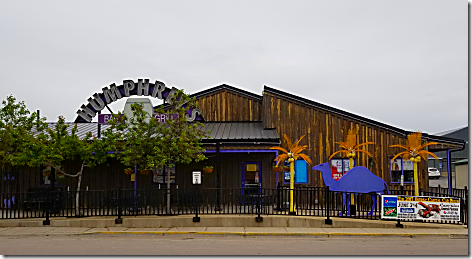 Humphrey's has one of those eclectic themes with a little bit of everything on the walls and hanging from the ceiling.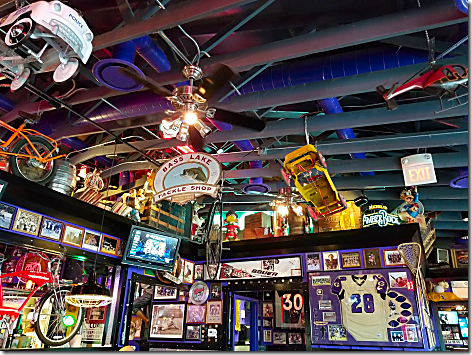 Jan had the Easy Cheesy Burger, a 1/2 pound sirloin burger with sautéed onions and mushrooms, covered in nacho cheese sauce, along with fries.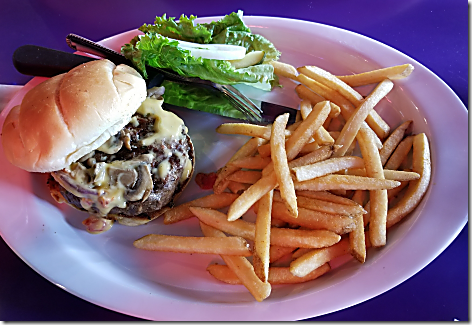 For me, I went with the 1/2 pound sirloin burger with crispy bacon and cheese, along with Hojo potatoes. Hojos start with a whole potato which is then sliced into 4 or so thick pieces, and then battered and deep fried to order, and served with sour cream.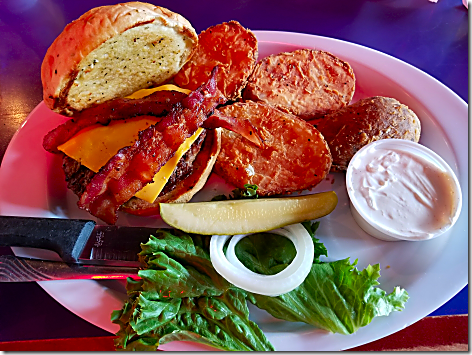 Really good,and very crispy-crunchy on the outside with a soft center.
After a great meal, we got back on the road toward home about 12:30. As I said before we had planned on doing Devil's Tower along the way, but as we left Cummins and headed toward Humphrey's, I started getting a headache that just kept getting worse.
So with that, and the fact that it poured down rain a good part of the way home, we decided to postpone our visit to another day. We had visited here in 2008, so it wasn't a complete loss.
After taking some Advil as we left Humphrey's, and a two hour nap after we got home, I was on the mend. My version of Jan's migraines, I guess.
Tomorrow I'll start working on getting the solenoid replaced.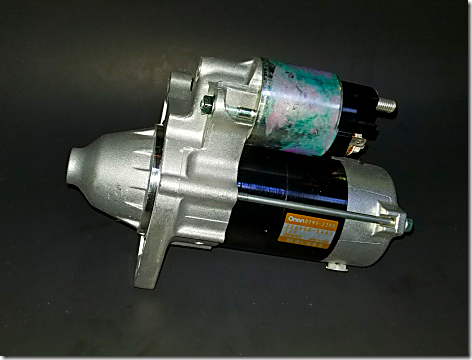 ---

Thought for the Day:
I wish to have no connection with any ship that does not sail fast; for I intend to go in harm's way. — John Paul Jones
sfgsdfgsdfg