Daily Archives:
June 15, 2017
After an easy morning, we pulled out of the I-80 Lakeside RV about 10:15, leaving our lake view site behind.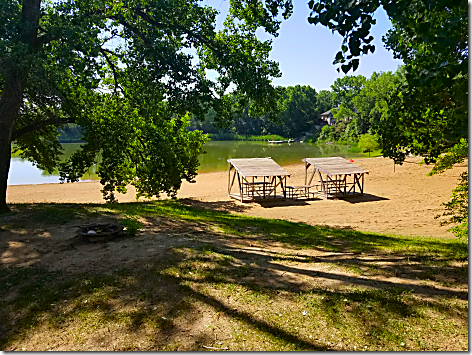 ---
---
In about 10 minutes we were back out on I-135 south heading for Bartlesville, OK, about 230 miles away. 80 miles later, just south of Wichita, we got on the I-35 Kansas Turnpike for the last 40 miles before the Oklahoma border.
40 miles for $4.75. Not bad.
And 20 miles later we got off I-35 and onto US60 east for the next 80 miles or so. Then about 10 miles out of Pawhuska we passed the entrance gate to the Drummond Ranch.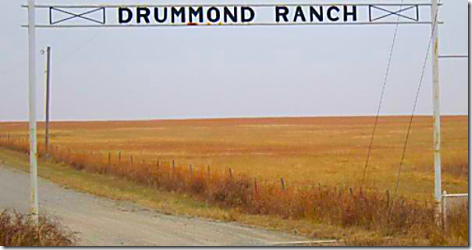 Doing a little reading later, I was amazed how large the ranch actually is. At 433,000 acres, the Drummonds are the 17th largest landowners in the US.
WOW! That's Texas big.
---
---
In fact, the Drummond Ranch and The Mercantile, home to Ree Drummond, the Pioneer Woman, is the reason we're here in the first place. This has been on Jan's bucket list for a while
Coming though Pawhuska a little after 2pm, we passed the place, and as we had been told, saw the line around the block waiting to get in. According to the web, they serve about 6,000 customers a day, with peaks up to 15,000. All this in a town of only 3,500 people.
We pulled into the Lakeside Recreation Park a little after 3pm and were led to our pull-thru site and got set up.
We had planned to go back to Pawhuska for dinner at The Mercantile, but then decided we wanted something closer and quicker, so we headed right down the road to have dinner at Montana Mike's Steakhouse. And it turned out to be a really good choice. Great steaks, homemade salad dressings and rolls, and excellent service.
---
---
As we were pulling into the restaurant parking lot, we were surprised to see this sign on a restaurant right new door.

Monterey's Little Mexico is one of our favorite places in the Houston area, and we always thought of it as a Houston chain. And it is, except for 3 locations in OK, 2 in Tulsa, and this one in Bartlesville. Don't know if we'll get to eat there while we're here.
The only downside to this park, is that just like last night's park, I can't get a satellite signal. But they have a good cable TV lineup, so I'm hooked up to that.
I think I may have set a new record. Somehow I managed to use 1GB of data on my MiFi . . . without being online.
I received an email from Verizon at 6:26am yesterday morning saying that I had 1GB left on my MiFi account. And then at 4:29pm, I received another email from them saying that I had now used all my 10GB of data . . . so 1GB in only 10 hours.
The real mystery is that I wasn't online during this time, or at least, hardly any of it. We were on the road almost all day, traveling the 330 miles from North Platte, NE to Assaria, KS.
So who was using all my data?

---

Thought for the Day:
According to a new poll, 7% of adults in the US thinks that chocolate milk comes from brown cows. And 48% doesn't know where chocolate milk comes from.


I think that explains a lot.
dfadsfdf