Daily Archives:
June 23, 2017
Our Huntsville trip got put off until tomorrow so it was another nice day around the rig for Jan and I.
---
---
So I decided to get out my Karcher Pressure Washer and clean the road grime off our Dodge Dakota truck. And of course I picked one of the hottest days of the year so far to do this.
But Awesome and the pressure washer make pretty quick work of the job. I then used wheel cleaner and tire black to finish it up.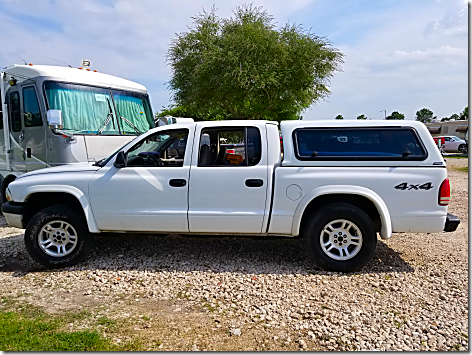 Looks pretty good for a 13 year truck with almost 260,000 miles on it, plus another 80,000 miles chasing the rig around the country.
Looking back over our RV Park stays during the last 3+ months, I figured we saved over $1200 dollars by using our Passport America membership.
Not bad for $44 a year.
Jan and I have been talking about our next trip, probably in the next few weeks. We'll probably travel over to Gulf Shore where we'll stay for a couple of weeks this time, but not at the Gulf State Park again. They've gotten just too expensive.
Our favorite sites on the canal are $299 per week, or a standard site is $249. But buried in the fine print is the fact that in addition to the 11% lodging tax (why? I'm bringing my lodging with me.) there's also a 15% resort fee. So that $299 a week becomes $376 a week, and even the $249 becomes $314 a week.
But we can stay at the Island Retreat RV Park right off the Gulf Shores Pkwy on the Fort Morgan Road for $211 per week, all taxes included. Or we can stay at the Luxury RV Resort just a quarter of a mile from beach for only $216 a week, also all taxes included. Decisions, decisions.
---
---
Then after Gulf Shores, we'll head up to Athens to visit my relatives, probably with a stopover in Montgomery and Birmingham to visit old friends.
Based on Ree Drummond's Seven Can Soup Recipe, Jan did her version today, but one upping Ree with another can of beans, and also adding some seashell pasta. And rather than use regular meat-only chili, Jan used a couple of the small cans of Skyline Chili, from our time in the Cincinnati area. And of course, Jan added a lot of heat to spice it up.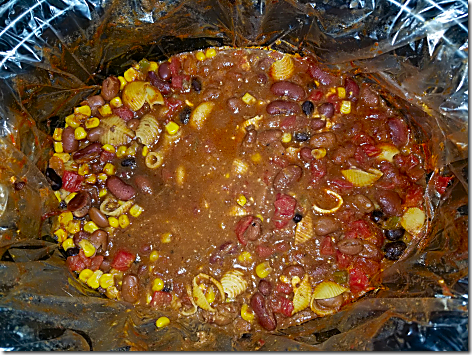 And as expected, it turned out to be delicious, with the distinctly different note of flavor from the Skyline Chili. Really good.
---
---
Thought for the Day:
If you find yourself in a fair fight, your tactics suck." – John Steinbeck
gghdghd