Daily Archives:
June 14, 2017
Please remember, Our RV Adventures is an Amazon affiliate. When you do your shopping through any of the Amazon links here, including the Search Amazon box in the right sidebar, it won't cost you any more, but we'll get a small commission on everything you buy. Just click on the Amazon link, then shop as usual. Thanks.
---
---
Plus, many of you are sharing our blog with others using the "Share this:" buttons at the bottom of each blog. Again, Thanks.
Since we had a 320 mile trip today, longer than our usual trip days, we were up at 6am and on the road by 7:30, with our first stop the U-Fillem about 3 miles back west just off of I-80
When we first scouted this place on Sunday, it looked perfect,. But when we drove by yesterday they had half the front lot torn up with construction. But it still looked doable.
And so it was this morning. And luckily for us we got there right before the 6 side-dump gravel trucks pulled in.Since only two could fill up at a time, we would have been there for a while.
But after filling up, and hitching up we were back out on I-80 by 8:30, heading east for about 85 miles, until we turned south on US-183. But the high point of the day took place about 70 miles along the route.
---
---
At 9:27am we hit 80,000 miles, that's 80,000 miles that we've put on the coach since we picked it up from the dealer Janurary 6th, 2008. Then one month later, on February 6th, we headed to Alaska.
Today's trip was really nice, especially for a long one. The scenery was great, not a lot of traffic, the generator/AC's worked perfectly, and all four highways we were on, I-80, US135, I-70, and I-135. were really good, with only a few construction spots on 183.
One thing we really didn't expect was how hilly/curvy Kansas turned out to be. Today's part of the trip in Nebraska was straight and flat, but as soon as we entered Kansas, hills and curves. Who knew?
---
---
We pulled into the aptly named Lakeside Recreation Park about 2:30pm, and were led to our lakeside RV site.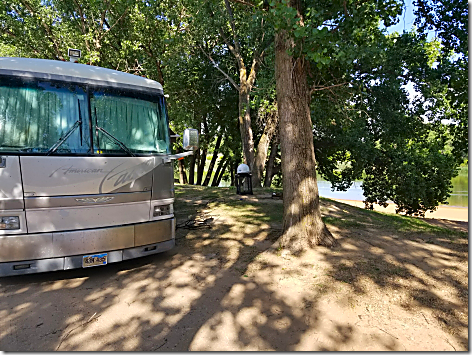 $15 for W/E-50amp under Passport America, Nice.
The only downside is that it was about a mile off the Interstate, down a dusty dirt road. So our nice, clean white truck is now tannish-colored. Well, that and the fact that due to all the trees surrounding the lake, we don't have satellite tonight.
For dinner tonight we had our leftover Italian from Luigi's last night, so we didn't even need to unhitch.
Tomorrow's trip is about 100 miles shorter, with a 230 mile run down to Bartlesville, OK for a few days so Jan can check out Ree Drummond's Mercantile in nearby Pawhuska.

---

Thought for the Day:
Don't gamble; take all your savings and buy some good stock and hold it till it goes up, then sell it. If it don't go up, don't buy it. — Will Rogers
jhkjhl