Daily Archives:
June 19, 2017
Yesterday as I was backing into our site here at Pauls Valley City Lake RV Park, Jan was spotting me at the rear of the site, and after we were parked, she said that there was a loud, banging noise coming from the engine.
---
---
Rut Roh!
I wasn't getting any warning lights or error messages on the dash, so after I was parked, I left the engine running and went back to check it out.
Yes, there was definitely a loud, banging noise. But it didn't really sound like it wasn't coming FROM the engine. In fact it sounded like it was coming directly from behind the side radiator and the cooling fan.
So maybe the fan was rubbing against something? But whatever it was I decided to wait until this morning to look at it.
So I went out about 11am this morning, and after laying down my pads I crawled under the rig to first check out the fan. But as I turned it by hand, all the blades seemed to be in good shape. But there was a lot of fluid around.
Then as I was kind of wiggling the fan back and forth I noticed that not only was the fan moving, but that the entire drive motor was moving as well.
The fan on our rig is hydraulically driven, rather than electrically or engine-driven like most vehicles, and I noticed that the bolt that holds the motor in place had lost its nut so the whole motor was just banging around inside the bracket.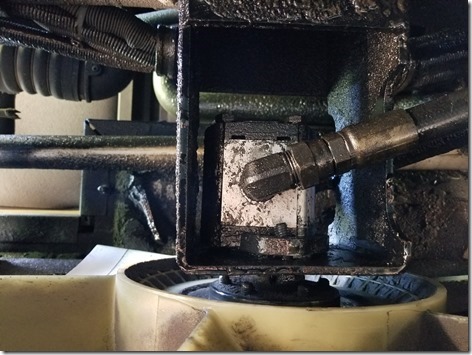 The motor was loose enough that I figured the bolt at the top was also loose. but hopefully just getting the bottom one locked down will get us back to Lake Conroe tomorrow.
---
---
I first tried to pull the bolt out so I could know what size nut to buy at the hardware store. But I could not get the bolt out because it hit the fan hub. So the fan would have to come off, and to get fan off I would have to pull the radiator. Nope!
So coming back in the rig, I put a call into Spartan to find out the size of the bolt. And after the tech rummaged though some very old computer, he said it was a 7/16×14 bolt, so I would need a 7/16×14 nut. The tech also said it had 2 flat washer and a serrated lock washer.
So more parts on the shopping list.
About 1 pm we headed over to Sonja and Lendel's for the afternoon. Jan wanted Sonja's help with some sewing, and Sonja wanted me to take a look at a computer problem she was having.
But after we got there, Lendel and headed back out to the Ace Hardware for the hardware I needed. I not only got the parts I needed for today, but another set to fix the top bolt when we get home. Looks like that to replace the top nut I'll have to go in from under the bed.
About 4pm we all drove over to Tio's Mexican Restaurant for dinner. Lendel got a large burrito, Sonja got a Chicken Quesadilla, and Jan and I got different versions of Tio's Trio, where you pick tres items from a list of siete.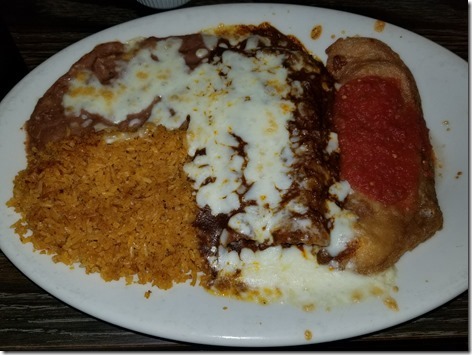 Mine had a Chicken Enchilada, a Beef Enchilada, and a Chile Relleno. Really good. And they have really great (hot) salsa and homemade chips.
Saying our goodbyes about 5, Jan and I headed back to the rig with a quick stop at the local O'Reilly's for a gallon of AW 32 Hydraulic Fluid to top off the tank if I needed it.
---
---
Getting home I changed clothes and crawled back under the rig. I didn't have enough clearance to use my ratchet, so an open-end wrench and a pair of Vice-Grips had to suffice.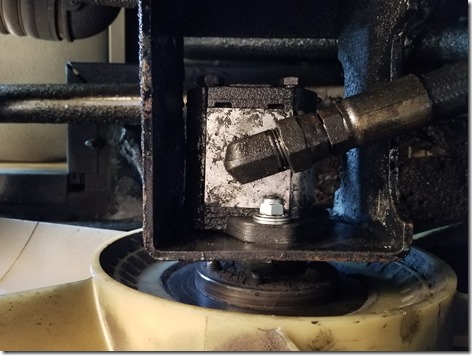 And after a few minutes I had it all tightened down in place. Now for the test.
Going inside I cranked up the rig and then went outside to give a listen.
Purring like a kitten.
So we'll head out tomorrow about 8am for the 350 mile trip down to the Lake Conroe Thousand Trails, with a stop here at the local Wal-Mart for $2.15 diesel.
Looking forward to being back 'home'.

---

Thought for the Day:
Beauty is in the eye of the beholder and it may be necessary from time to time to give a stupid or misinformed beholder a black eye. – Miss Piggy
dfgssfg