Daily Archives:
June 3, 2017
This morning seemed to be a good time for breakfast, so we headed into RC about 11:30.
---
---
Based on a recommendation of blog reader Jeannine Sheridan we decided on Cambell Street Café. And yes, that's the way it's really spelled. And that's how the street name is spelled.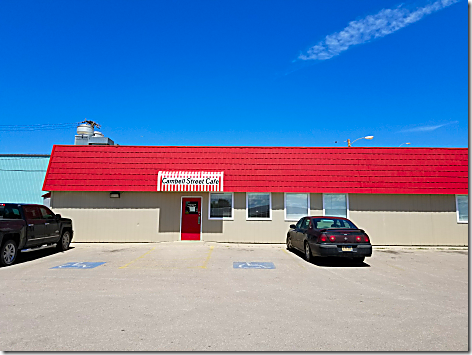 But when you try to Google the place, it changes your spelling to 'Campbell', and every review spells it 'Campbell' also.
---
---
But however it is spelled, it was really, really good, with giant portions. And as a bonus, good coffee and great service.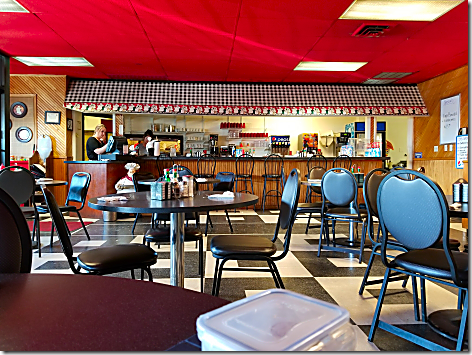 Jan had two eggs, scrambled dry, with extra crispy bacon, hash browns, and a biscuit.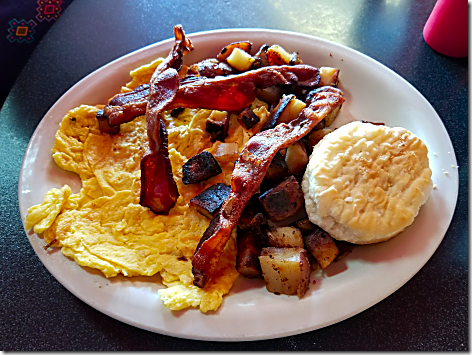 I went with their pancakes, eggs, and Polish sausage.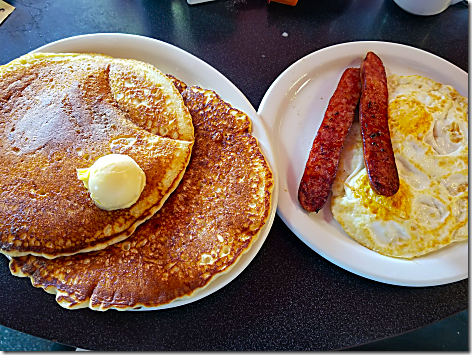 Jan and I both ate on the pancakes and didn't come close to finishing them.
As we were leaving we mentioned to the owner? and our waitress that we were RV'ers and another RV'er had recommended the place. We said that they were having their RV worked on for a month or so, and had eaten here a number of times.
---
---
Both said they remembered them, and our waitress said she had waited on them a lot. So I guess Jeannine and her family made a good impression.
Coming home we made a Wal-Mart stop before getting back to the rig about 2pm. At this point I guess I was still a little washed out from my headache yesterday, so, putting off working on the generator solenoid, I took a nap.
But later I did pull the new solenoid off the starter to be ready to tackle it tomorrow..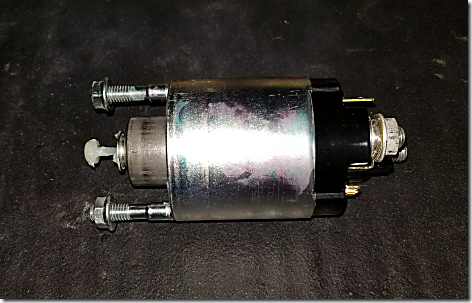 In a follow-up to my travails with my Verizon MiFi and the data speed throttling, I recently mentioned that after my MiFi had throttled back at 10GB, I had switched over to hotspotting my S8+. And that while I had used up the 10Gb on the MiFi in just seven days, it took me almost three weeks to get to the 10GB limit on my S8+.
And now I'm at almost 20GB on my phone, but I'm still not being throttled. And my MiFi is still throttled, and I guess it will be until June 8th when my account resets.
We've been recording the Torchwood marathon on BBCA since 4am Friday morning, and it finally finished up at 6pm this evening, so now we've got all 37+ hours of the series. Looking forward to binge-watching it in the near future.
But right now we've been catching up on a couple of series that we had recorded and saved, Motive and Murder in the First. Somewhere along the line we had missed one or more of the last few episodes of both series, So we've streamed the missing episodes from the Internet filling in the blanks, and then watched the ones we still have recorded. We've finished with Murder in the First, so now we're working on Motive.
Jan slow-cooked a big batch of her Chicken Vegetable Soup so that's what we had for dinner. Really good, as usual.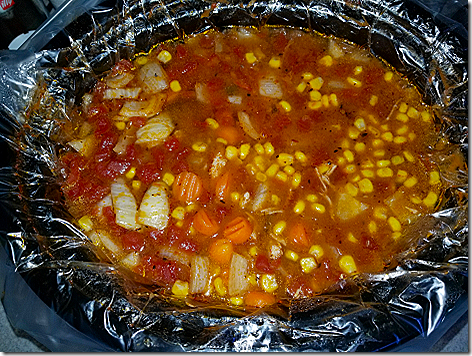 Tomorrow, back on the solenoid?
---

Thought for the Day:
"Nothing in this world can take the place of persistence. Talent will not; nothing is more common than unsuccessful men with talent. Genius will not; unrewarded genius is almost a proverb. Education will not; the world is full of educated derelicts. Persistence and determination alone are omnipotent. The slogan Press On! has solved and always will solve the problems of the human race." ― Calvin Coolidge
asdfasdfad