Daily Archives:
June 20, 2017
We were up about 6am and pulling out of our site a little after 7:45 with Jan following in the truck. We were heading for the Lake Conroe Thousand Trails about 350 miles away, a long day for us, but we were anxious to get back to Houston.
---
---
Although we were here at this park for the convenience and not for the water-based activities, the view out of the windshield was nice.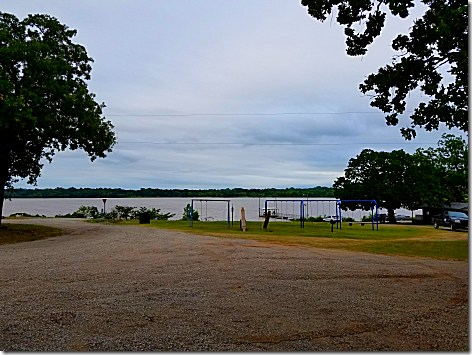 Our first stop was the Wal-Mart about 5 miles away for diesel at $2.15/gallon. We filled up here two years ago, and knew it was an easy in/easy out. And by 8:20 we were hitched up and out on I-35 south,
And I-35 took us about 150 miles through Dallas where we hooked up with I-30 for a couple of miles, and then onto i-45 south.
---
---
And this brings up Never, Ever Again. I normally don't have a problem driving through big cities. Houston, El Paso, LA, San Diego, Las Vegas, etc., no problem. But I will never, ever drive through Dallas again.
That is the biggest mess I've ever driven in, with construction from one city limit to the other. And as the lanes went from 3 to 1 to 2, etc., invariably they left you in a lane you didn't want to be in, leaving you stuck in an exit lane where you don't want to exit.
So then you put your turn signal on and start moving over, watching in your mirror the truck continuing to ignore your blinkers and coming on up. Then he suddenly realizes, yes, you really are coming over and he's going to be in big trouble fast.
So I don't know if it will be any better, but if I ever have to do this again, I'll take the 635 Loop around. It's only about 12 miles further. Anyway, I don't think it could be worse.
---
---
After a stop at the Madisonville Buc-ee's for coffee and kolaches, we pulled into site A9 at the Lake Conroe TT.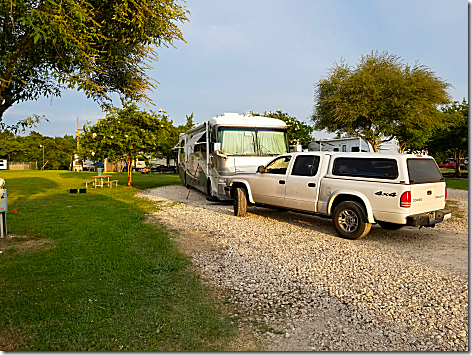 Driving up this row, I thought I was in the 'G' section, and I kind of was, since the left side is 'G' and the right side is in 'A'. But it's a nice level site with 50amp FHU, so it's all good. Especially since they since at the office that when everyone comes in today, the park is full.
Yesterday's repair to my hydraulic fan motor held with no problem. Sometime in the next few days, I'll go under the bed and check out the access to the top bolt.
Tomorrow, hopefully nothing.

---

Thought for the Day:
Whenever you find that you are on the side of the majority, it is time to reform." – Mark Twain
dfgadsfasdf