Daily Archives:
June 10, 2017
Since we had a short travel day on tap we didn't get up as early as usual, taking our time, and not leaving until a little after 10.
---
---
While Jan waited off to the side in the truck, I pulled out of the site and then parked for a few minutes. I wanted to walk the site and check the high grass under the rig to see if I had left any tools behind. We rendezvoused at the Mobil station out on the Interstate where I filled up with diesel. Or at least tried to.
Normally I can use each credit card twice at the pump, but this time after the pump stopped at $90 the first time, I slid the card again and was told, "You can not use this card again right now". Never saw that before.
So I used a second card, and after a second $90 worth, I got the same message a second time. Oh well.
After not quite filling up, we were hitched up and on the road a little before 11am. Right before we pulled out, I started up the generator using my new starter bypass system. And about 30 seconds later we had power and air conditioning. Nice.
Our first stop was at Wall Drugs about 65 miles away, pretty much just for lunch.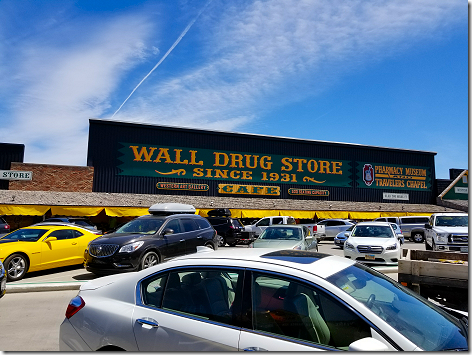 When we came through here in 2008 we spent more time roaming around the block-sized place, but not today.
Last time we were here it was October and we were the only RV in the football-field sized parking lot. Today it was a madhouse, with rigs parked every which direction, blocking each other in.
---
---
We left the generator/AC's running for Karma while we made the block walk to the store. I got in line at at the burger window and ordered a Beef Hot Dog and Fries for Jan, and a Buffalo Hot Dog and Fries for me.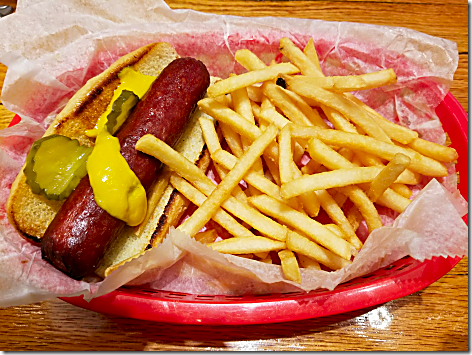 After a nice lunch we made a quick lap around the gift shop before heading back out to the rig. I thought we were blocked in because someone had decided to park their ginormous 5th wheel in the access road on the side of the lot blocking it for everyone. But luckily the rig right in front of us pulled out and we were right after them.
We pulled into the Belvidere KOA about 2:30 and were quickly led to our long pull-thru site, with 50amp Electric/Water. Nice that we didn't have to unhitch the truck.
---
---
Later when I went out to the truck for something and found this guy crawling across our site.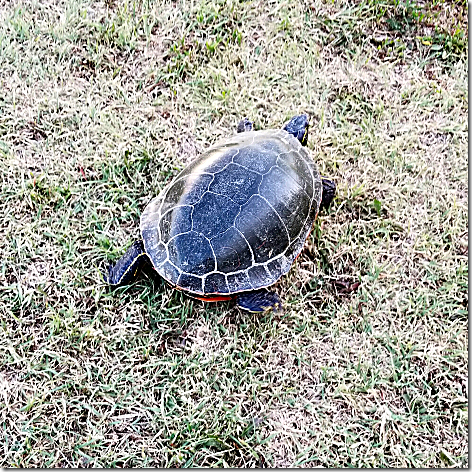 Although this guy is a Western Painted Turtle, he looks a lot like the Red-eared Sliders I use to have. He just doesn't have the red stripe on the side of his head.
And then there's this distant ancestor that we saw last week at the Reptile Gardens.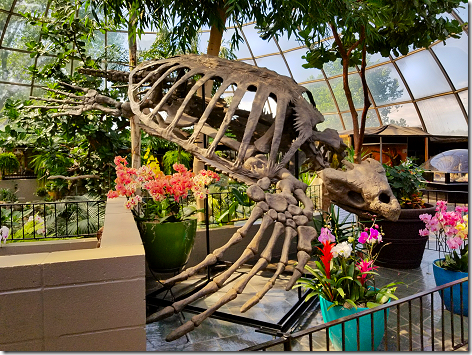 The largest turtle that ever existed, he weighed about 4500 pounds, was 15 feet long and 16.5 feet across the front flippers. Found near Hermosa, SD, he was about 100 years old when he died, and lived at the time of T-Rex, about 65 million years ago.
Tomorrow, we've got about 230 miles to North Platte, NE where we'll stay for a few days taking in all the train stuff that's there.
And about 5 miles after we leave the park we'll be back in the Central Time Zone for the first time since March.

---

Thought for the Day:
If only the good die young, what does that say about us senior citizens?
fgsfgsdfg