Daily Archives:
June 11, 2017
We slept in this morning, not getting up until about 8am, and then had a leisurely breakfast of orange juice, coffee, and bacon/egg croissant sandwiches.
---
---
Since we hadn't unhitched the truck last night, and didn't unpack a lot inside the rig, we really didn't have a lot to do to get ready to roll. We pulled out of the Belvidere KOA about 10, one of the last RV's still left.
Five miles down the road it was suddenly 11am, when we entered the Central Time Zone once again. We followed 1-90E for about 20 miles till we turned south on US83, heading for North Platte, NE, about 200 miles away.
The first thing we noticed was that as soon as we turned on 83 the road went to crap. And stayed crap for the next 67 miles until we entered Nebraska Then it was like we flipped a switch over to the Nice, Even Road selection. Then it was smooth sailing for the remaining 125 miles.
---
---
Soon after we entered Nebraska we encountered the Sandhills, an area of sand dunes covered in grasslands, that occupies over one quarter of the state.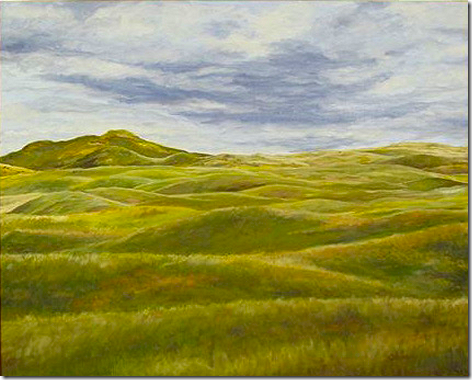 There have been unsuccessful attempts to farm parts of the Sandhills since the 1870's, some lasting until the early 1900's. Today the Sandhills are home to over 530,000 head of cattle, and we saw many large herds as we came south.
---
---
We pulled into the I-80 Lakeside Campground, a Passport America park, about 3:30, and were led to our grass site by the owner's granddaughter on her go-kart, a first for us. And by 4pm we were all set up and watching TV. Nice.
Tomorrow afternoon we plan on checking out the Golden Spike Tower that overlooks the Bailey Yard, the largest railroad switching yard in the world.
Finishing up, when we leave here Wednesday morning I want to get more diesel since I wasn't able fill up on Saturday, due to only being able to use each credit card once. So, using Google Maps, I've already scouted out a place to for us to hopefully fill up when we leave.
It looks to have plenty of room to get the rig in and out, and probably even hitch up. And even better, diesel is only $2.25 a gallon.
Glad I waited.
---

Thought for the Day:
"The lion cannot protect himself from traps, and the fox cannot defend himself from wolves. One must therefore be a fox to recognize traps, and a lion to frighten wolves." ~ Machiavelli
gsdfgsf