Daily Archives:
June 27, 2017
We really like the site we're in, A25, and it's one of our favorites. We've been here at least once before, as well as A24 and A23 right next door. They're all really nice.
---
---
There's a couple of large oak trees for some nice shade, without shading our satellite access. Just about perfect.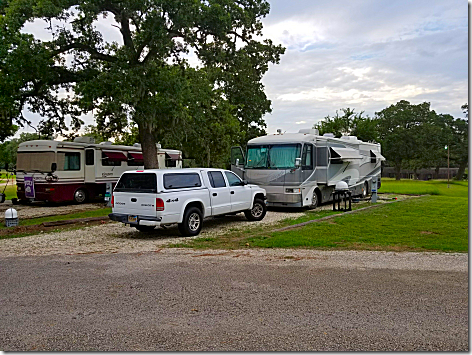 Our water was off for a few hours this morning, but not a problem for us since we always keep our fresh water tank at least 3/4 full. You never know when you'll need it.
Before we left Lake Conroe I was trying to make us TT reservations for the next several months, but ran into a problem when the Thousand Trails website wouldn't let me book 9/3 to 9\/17 because it said I was trying to book more than two holidays at the same time. Since the only other holiday I had booked was for July 4th, I couldn't understand why I had a problem.
---
---
But when I called TT I found that it's not the actual holiday itself that's the problem, but the 'holiday period', i.e. the week before the holiday and the week after. But they lady also said once we left Lake Conroe and moved to Colorado River, I should be able to book the date. And she was right. When I tried it today, it went right through.
Yesterday I called Passport America to see about what it would take (and cost) for my friend to sign up his RV park under PPA.. Turns out to be easy-peezy. And it's free.
All he has to do is to give'em a call with all his park info, and it's done.
Later in the afternoon I did get under the bed and lift the engine cover to see if I could get access to the top of the hydraulic fan motor that came loose last week.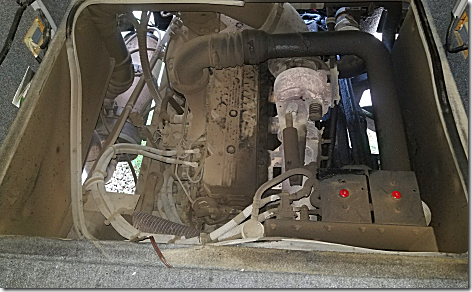 And here's the motor off to the right side.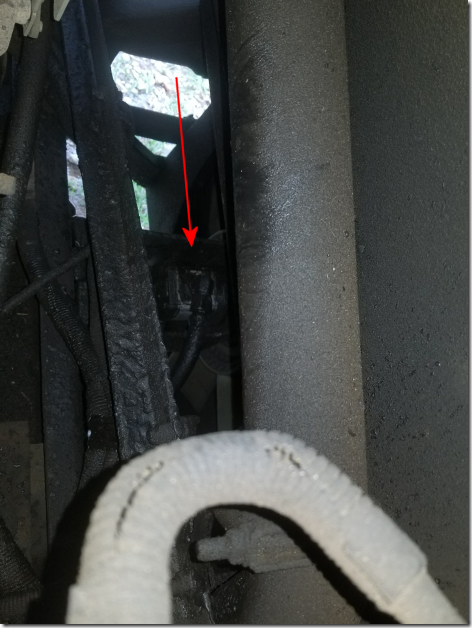 And as I told Jan, even if I was skinny and she held me by my ankles, I couldn't get to it. In fact I don't think it can be accessed at all from the top.
---
---
But now I've got another question, and so far, nobody knows what they are. I don't know why I never checked them out before, but I was curious as to what these two red buttons/switches? are for.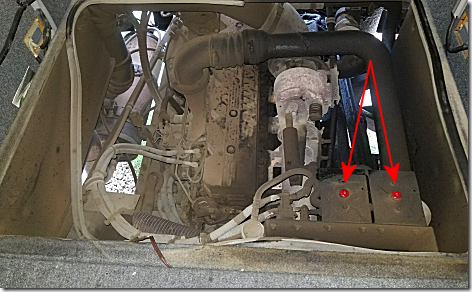 By proximity they seem to have something to do with the PacBrake. The control valves, the air lines, and the electrical power are all right in that area. Each red button has '120' printed on it.
I didn't explore more because a lot of heat was coming from the opening, so I closed everything up, deciding to just call American Coach and find out.
And American Coach had no idea, but didn't think it was anything of theirs, and said to call Spartan, our chassis manufacturer.
And Spartan had no idea either. So next I called PacBrake, thinking it might be theirs.
And PacBrake had no idea either.
So I'm throwing it to the blogosphere. What say you?
Otherwise I'm going to be forced to open up the compartment again and actually press a button.
Save me from the temptation.
---

Thought for the Day:
A license is a right taken away from the government and then sold back to the citizen.
fgsdfgsfdg