Daily Archives:
June 25, 2017
Although today was a travel day, it's only about 120 miles over to Colorado River so we didn't get up until about 7:30am, and were hitched up and pulling out of our site by 10:15.
---
---
The trip was smooth, .i.e. nothing broke down or fell off, always an sign of a good RV trip. And being Sunday morning the traffic was as light as usual.
Karma has finally mellowed enough, probably due to all our recent travels, that rather than running and hiding, or sitting on the floor between our chairs and crying, she just sleeps on the sofa.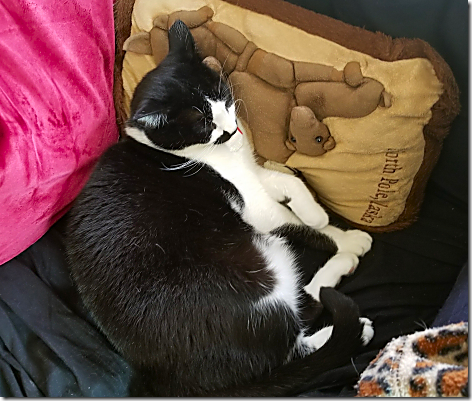 Coming through Katy, it was good to see that the new Buc-ee's was close to opening. When it finally does, it's probably be our rest stop going back and forth between Lake Conroe and Colorado River
---
---
The other good thing to see was the US Rig Count on the sign as you leave Katy. It was at 933, up 6 in the last week, and up 157 since we last saw the sign on March 2nd. A good sign for gate guard jobs later this summer.
Coming into Columbus we had some sprinkles and a little rain, but it was all gone by the time we got to the park, though yesterday they got a couple of inches here.
We were parked and setting up by about 12:30 in a nice site up in the 'A' area, our favorite.
We had planned to stay home tonight for some more of Jan's version of Ree Drummond's 7 Can Soup., but who should show up at our door but our friend Jim Dean. And we didn't even know he and his wife Peri were here.
So we ended up going with them to Los Cabos, our favorite local Mexican restaurant.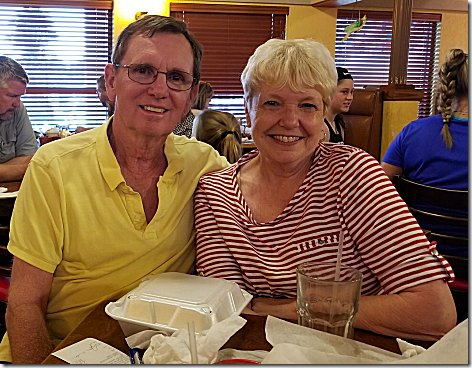 We hadn't seen them since late last year when we meet them a couple of times in San Antonio while we were gate guarding, so we had a lot to catch up on. Which meant that our dinner lasted most of the obligatory 3 hours that most RV get-togethers seem to last.
---
---
Hopefully it won't be so long next time.
When I get a chance to . . . and that is a long list, believe me. But when I get a chance I want to see if I can add some scoops or extra vents to the side of our rooftop front AC cover.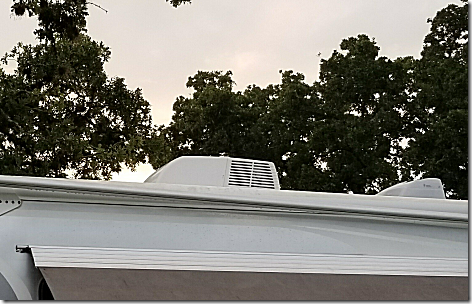 Sitting still the front 15K BTU unit has no trouble cooling the rig down even in the hottest weather. But on the road it struggles in 90+ degrees. So since it's getting the same 120vac from the generator as shore power, the only other reason is the air flow over the condenser coil.
I suspect that the air flowing alongside the vents in the cover may be creating a suction and messing up the air that's supposed to pull the heat from the coil. But before I change anything, I might try leaving the cover off when we travel back to Lake Conroe in two weeks, assuming it's not going to rain.
If that makes a noticeable difference then I'll look at adding some scoops or something to see if that helps.
Or when I get a chance to.
---

Thought for the Day:
Two people can keep a secret, provided one of them is dead and neither of them were online.
fgsfgsfdg