Daily Archives:
June 30, 2017
Jan and I had the day off today while the rest of the horde went sightseeing in San Antonio.
---
---
So I spent the morning working on a new client's website, trying to get all the photos cleaned up and sized correctly. The company sells custom-made knives, 14 different hand-forged blades with your choice of over 30 different handle and bolster materials, both natural and man-made. Here's a sample.

This is a Short Sword, with a Mountain Maple bolster and an Ocean Fleurinite handle. It runs around $400, depending on bolster and handle materials. Just beautiful workmanship.
Long time friend and blog reader Tricia took me to task this morning for not using a timer on the camera so Jim and I could have been in the group photo also.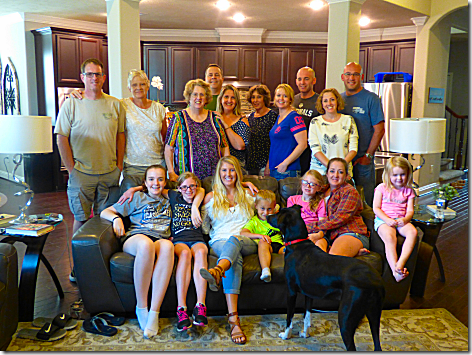 I said, "Just give me another day or so, and both Jim and I will both be in the photo."
---
---
And actually, everyone wasn't in the original photo either. Here's the actual original one.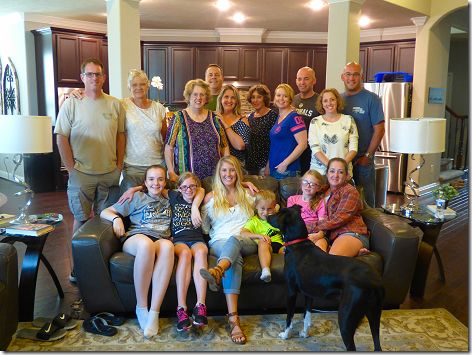 Not that Annisten, the little girl in pink sitting on the right sofa armrest, wasn't there. She was taking a nap.
So after she got up, I took this photo of her, by herself. standing in the same position with the same lightning.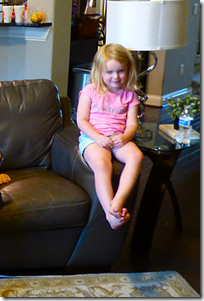 Then with the magic of Paint Shop Pro (my Photoshop clone) I got this, the one you saw.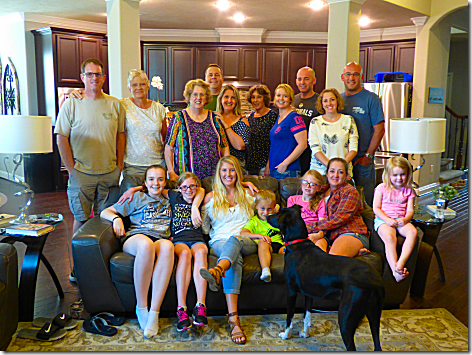 So as soon as I can get photos of me and Jim standing behind the sofa we'll in the photo too. Stay tuned.
---
---
About 4pm Jan and I went in to Columbus to have dinner at Los Cabos once again. She's been fighting back problems the last couple of days, but she was feeling a little better this afternoon so we made a last –minute trip to eat.
Jan had the Combo Fajitas,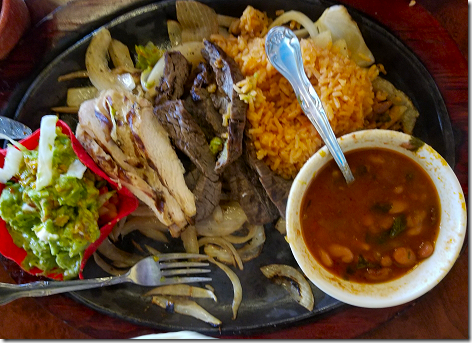 while I had the Plato Loco,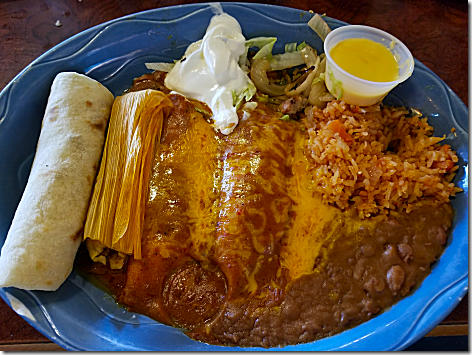 with a Soft Beef Taco, a Beef Tamale, a Cheese Enchilada, and a Beef Enchilada. All really good.
Then coming home I made a quick stop for a few things from Brookshire Bros.
Coming back to the rig, I dug our Weber grill so we can use if for our cookout tomorrow. It's been a while since we've used it so I hope the propane bottles haven't leaked down. We'll see.
Tomorrow Jan and I are going to be on babysitting duty, watch all the kids while Brandi and Lowell take all the adults sightseeing. So we'll be getting an early start so we can be at Brandi's by 10am. Yikes.
---

Thought for the Day:
However beautiful the strategy, you should occasionally look at the results. – Sir Winston Churchill
sdfgsdfg