Daily Archives:
June 26, 2017
Please remember, Our RV Adventures is an Amazon affiliate. When you do your shopping through any of the Amazon links here, including the Search Amazon box in the right sidebar, it won't cost you any more, but we'll get a small commission on everything you buy. Just click on the Amazon link, then shop as usual. Thanks.
Plus, many of you are sharing our blog with others using the "Share this:" buttons at the bottom of each blog. Again, Thanks.
---
---
Today was another stay-at-home, rest-up day preparing for when all of Jan's relatives from Illinois converge on Brandi's house in Katy.
We'll go into Brandi's on Wednesday morning as everyone starts drifting in. Jan's sister, Debbie and her husband Jim are driving in from Illinois, while their daughter Tana, her finance Curtis, and Tana's daughter Gwen, are flying in from doing the theme park thing in the Orlando area.
But Debbie and Jim's son Jason, his wife Laura, and their kids Avery Jane, Ella, and Annisten, along with their other daughter, Christina, have been vacationing down in the Galveston area for the last week
In fact, Brandi, Lowell, Landon, and Miss Piper met them down in Galveston yesterday for fun, sun, and the water.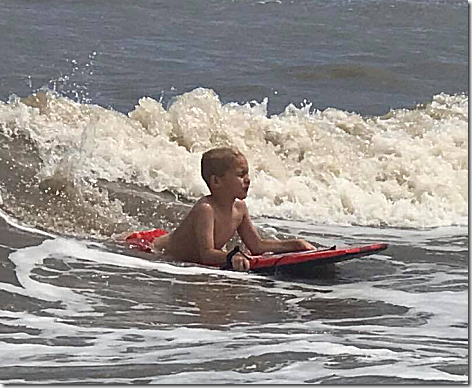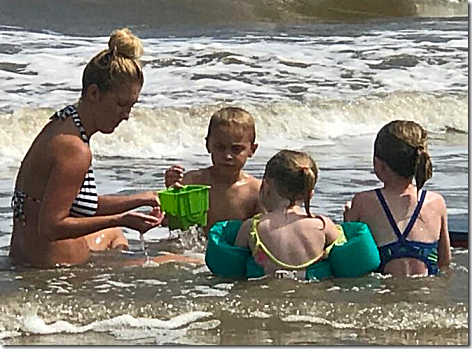 ---
---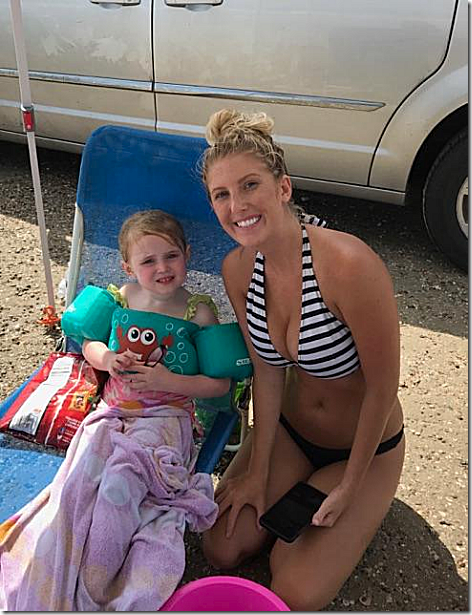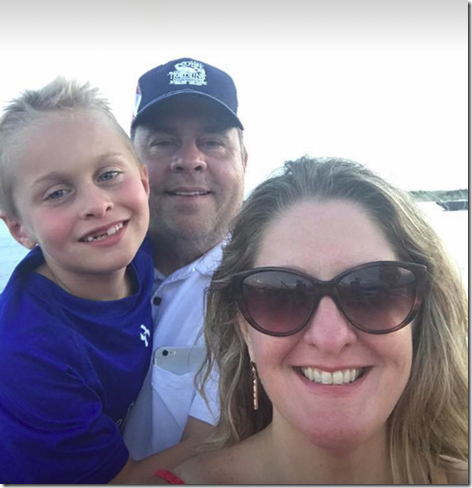 Jan and I are really looking forward to seeing Debbie and her family, since it's been over 2 years.
Tomorrow I'm going to lift up the engine cover under the bed and see if I can reach the top bolt on the hydraulic fan motor that came loose last week in Pauls Valley, OK. I bought extra nuts and washers, but I don't know yet if I can get to it. I guess we'll see.
I've also been thinking more about my rooftop AC not cooling well while we're on the road, but works great when we're parked.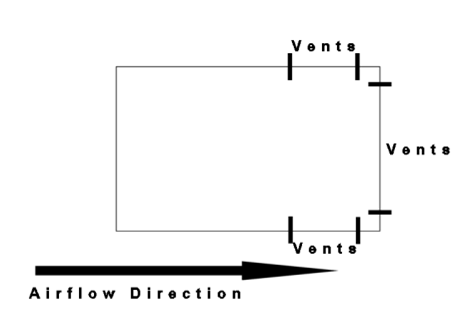 Here's a drawing I made noting the location of the vents on the cover. I think the idea is that air rushing pass the side vents will create a vacuum, pulling in the air from the rear vents.
---
---
But that air is normally considered a dead space, almost a vacuum area itself. That's why race cars can draft behind each other. And also why you see more and more semi-trailers with those foldable flaps on the rear end to smooth out the air flow. Studies show around a 5.5% increase in fuel mileage when they're used.
So I may try adding some flaps on the sides and top of the cover to see if that helps.
I may already be a winner, or at least that's what Publisher's Clearing House is telling me. I entered today for the big drawing for a prize of $2,000,000 up front, $10,000 a week for life, and a new car. Nice!
The next drawing is this Friday, the 30th, so I always wait until the last minute to sign up because I get flooded with emails about the drawing. And now they're selling a lot of other stuff besides magazines, including pretty much all the 'As Seen On TV' stuff, like copper pans, expandable hoses, and cleaning products.
But I might already be a winner, right?
---

Thought for the Day:
Sometimes by losing a battle you find a new way to win the war.
ghgdg