Dead Man's Hand . . .
After yesterday's 91°, today's 75 and partly cloudy was a nice relief, especially since we didn't get the also-promised rain showers this morning.
---
---
Today we thought we drive up north to Deadwood, so after a quiet morning we left the rig about 1pm. Getting into Deadwood about 30 minutes later,our first stop was the Visitor's Center to pick up some brochures and make a restroom stop.
Then it was on to a recommended place for lunch, Harry's Spaghetti Western Restaurant
We each got one of their dinners, starting with a salad.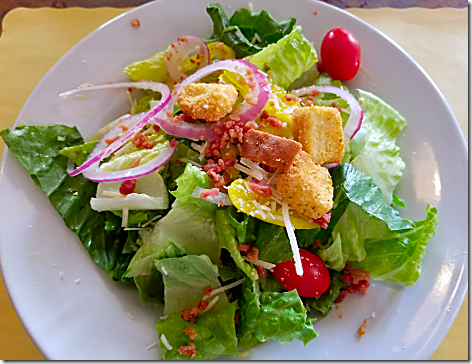 After that, Jan got the Fettuccine Alfredo with Chicken, while I got the Spaghetti with Meat Sauce and Meatballs.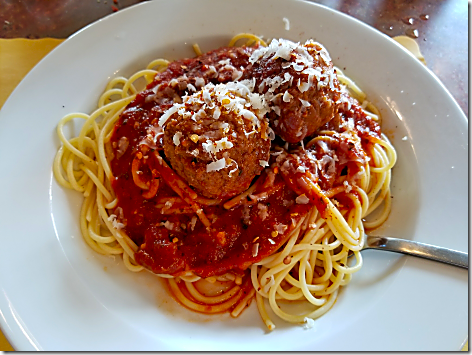 For dessert I had the Spumoni Ice Cream that came with the meal,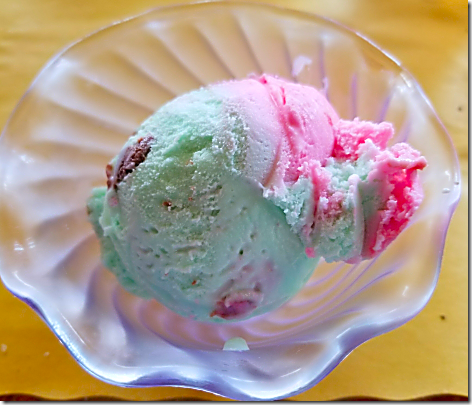 while Jan upgraded to the Tiramisu Cake.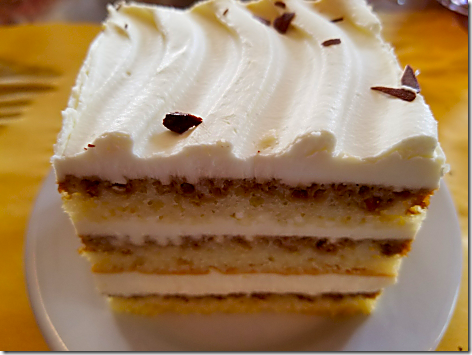 And after a very good meal, we drove up the hill to the Mt. Moriah Cemetery, where both Wild Bill Hickok and Calamity Jane are buried . . . as well as over 3,600 other unlucky people. The place is enormous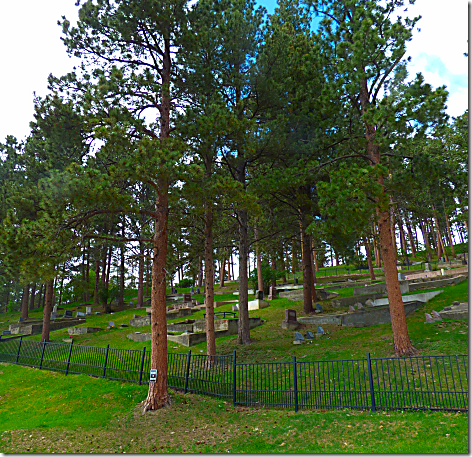 We would have walked around a bit, but as you can tell it's pretty steep and hilly, and since my knee has been acting up, we took a pass.
---
---
Coming back down the hill, we drove down Deadwood's Historic Main Street.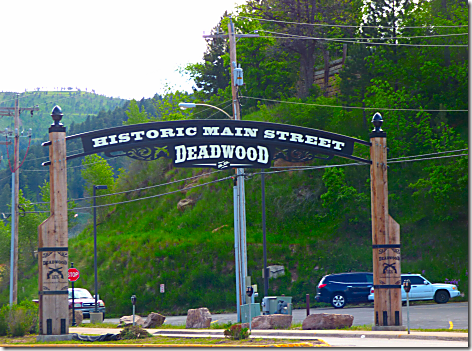 Hence the sign 'Historic Main Street'.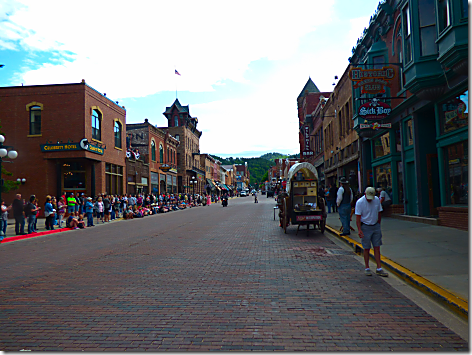 Leave it to me to sniff out a model train layout, and there was one right on Deadwood's Historic Main Street.
The layout of the Northern Hills Railway Society is in the basement of a gift shop, and admission is free, though it costs $1 to run the trains for 10 minutes.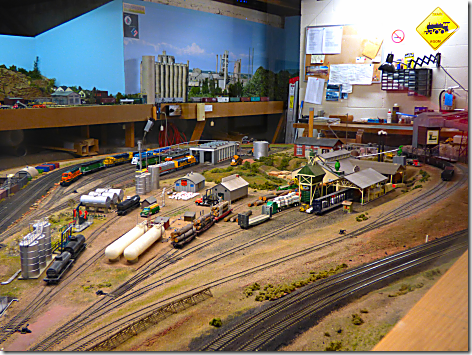 The layout is 80 feet by 16 feet with over 1200 feet of track, 54 engines and 400 cars.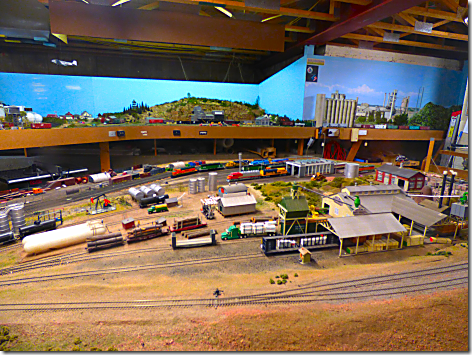 One thing I liked is all the small details and dioramas.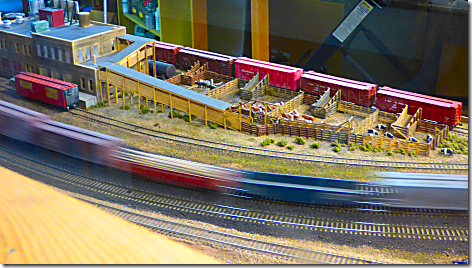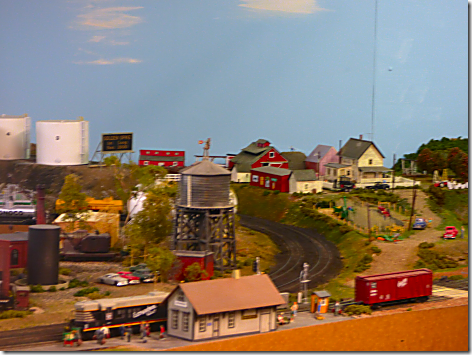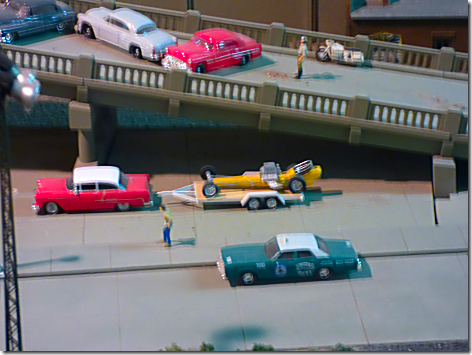 ---
---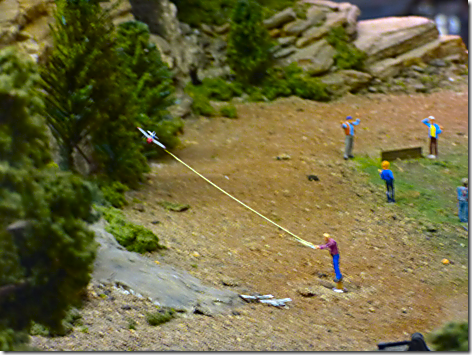 Note the yellow biplane flying under the bridge below.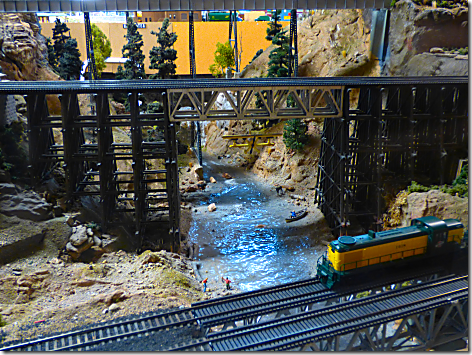 Coming back up to street level we were just in time for one of the scheduled gunfights.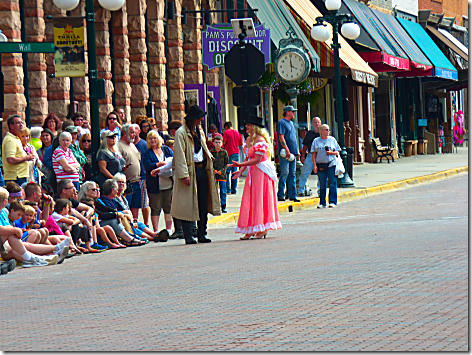 When I saw the poker table set up I thought that they were reenacting the shooting of Wild Bill Hickok, but it was some other famous gunfight.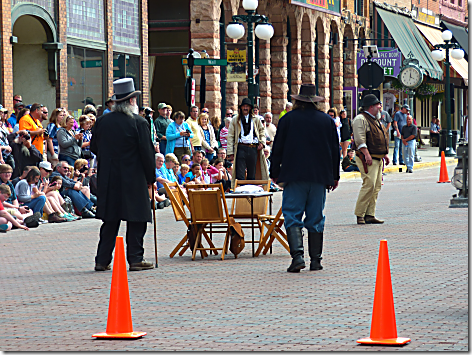 As it was the whole thing took place right in front of the saloon where Wild Bill Hickok was shot August 2, 1876.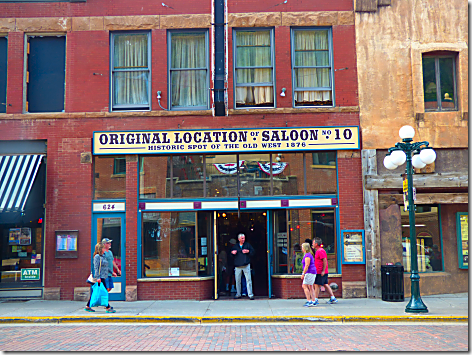 Playing Five Card Draw, the hand Hickok was holding consisted of black aces and black eights, now known as a "Dead Man's Hand". He had discarded the fifth card, and supposedly the replacement had not been dealt. At least that's the way the story goes.
Heading home about 4:30 we drove on into RC for a quick stop at the Harbor Freight for a couple of things. Then it was back to the rig with a stop at the office to re-up until Saturday.
Tomorrow, the Dinosaur Museum and Mt. Rushmore.
---

Thought for the Day:
"Those who control the past control the future.
Those who control the present control the past."
— George Orwell
dfgsfgsfdg