The Gang's All Here . . .
Jan and I headed into Katy once again this afternoon, about 12:15, but with a first stop at the Park Office.
---
---
I realize this morning that since we hadn't left the park after we got here on Sunday, I hadn't paid my $3/day 50amp fee yet, so I stopped off to take care of that.
We got Brandi's just as Lowell arrived with Curtis, Tana, and Gwen, after picking them up at the airport. They had flown in this morning from Orlando after doing the theme park thing there. So we finally had the whole crew in one place.
Early in the afternoon we surprised our daughter-in-law Linda with a birthday cake.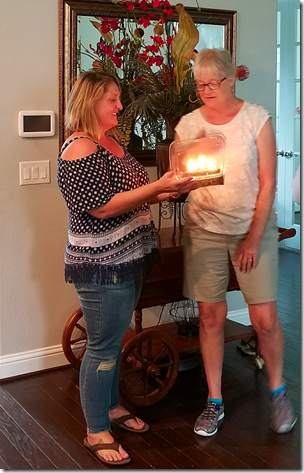 Then everyone ended up in small groups scattered around.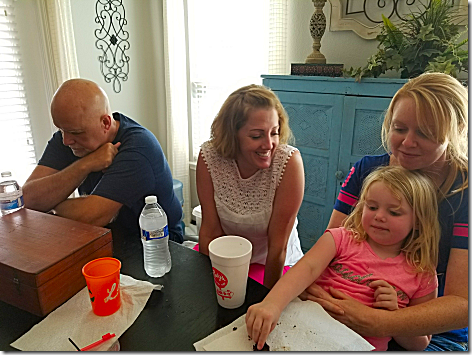 ---
---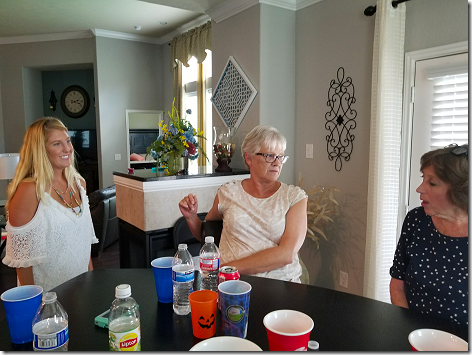 It was really funny listening to Jan, who did medical records coding for 35+ years, Miss Piper, who's now doing psych facility coding, and Curtis, who's also in the medical field, throwing medical codes back and forth.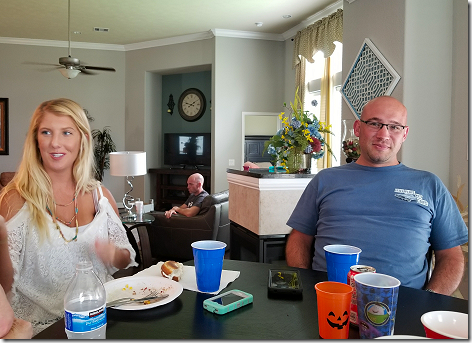 Chris brought all his gumbo paraphernalia with him today and started working on a big batch of Seafood and Andouille Sausage Gumbo for dinner. Really made the house smell good, and the gumbo was even better.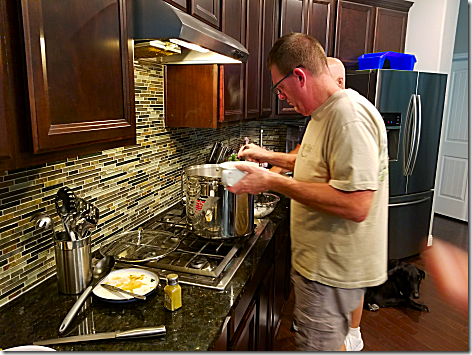 Jan and Brandi made up garlic bread to go with, the perfect addition.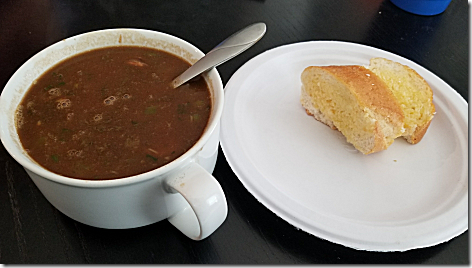 Then it was cleanup time with a lot of helping hands.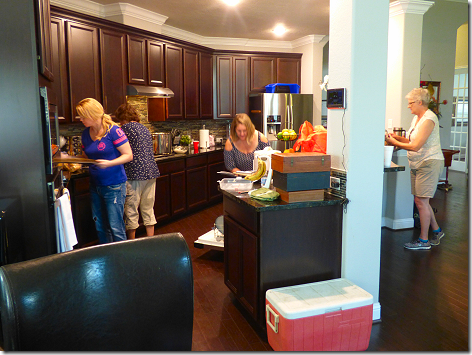 ---
---
Later in the afternoon I was finally able to get everyone (except me and Jim who were taking the photos) somewhat lined up so I could get a group shot for posterity.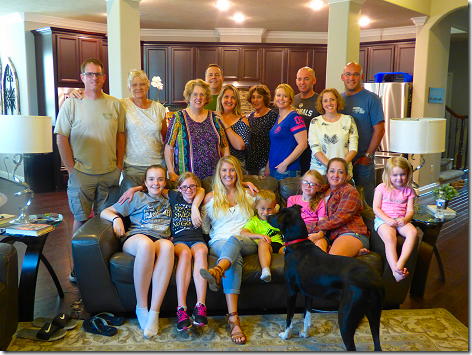 top left to right: Our son Chris, his wife Linda, Jan, our son-in-law Lowell, our daughter Brandi, Jan's sister Debbie, Debbie's daughter-in-law Laura, Laura's husband Jason, Debbie's daughter Tana, and her fiancé Curtis.
bottom left to right: Tana's daughter Gwen, Laura's daughter Avery Jane, Miss Piper, Landon, Laura's daughter Ella, Debbie's daugther Christina, and Laura's daughter Annisten. And of course, Baxter the dog. I think I got them all.
That's a motley crew if I ever saw one.
Jan and I finally headed back to the rig about 7:30, and after a quick stop at the Brookshire Bros. in Columbus, we were back at the rig by 8:45 after another fun day.
Tomorrow we get a day off, since most of the bunch are going over to San Antonio for the day. As far as Jan and I, Been There, Done That. Several Times.
But Saturday it all starts back up again with a cookout. Then Sunday we're going down to Sugarland to watch Landon play Ice Hockey.
Wrapping up, I had been worried about the status of my Arizona CCW permit. I mailed it off from Apache Junction April 12th to an address right down the road in Phoenix. So now at the 2-1/2 month mark I was starting to get antsy.
Every time we would talk to Brandi I'd ask if they'd gotten anything for me from Arizona. And always, NOPE.
And I was sure that I had ask for my CCW permit to be sent to Brandi's, but I was wrong. This evening, when I went through our mail that had come to our son Chris' I found the letter with my permit. enclosed. And it was dated May 2nd. When means it got sent back out one day less than 3 weeks after I sent it in.
Fast service.

---

Thought for the Day:
Most people would like to be delivered from temptation but would like it to keep in touch. – Robert Orben
dfgsfdg